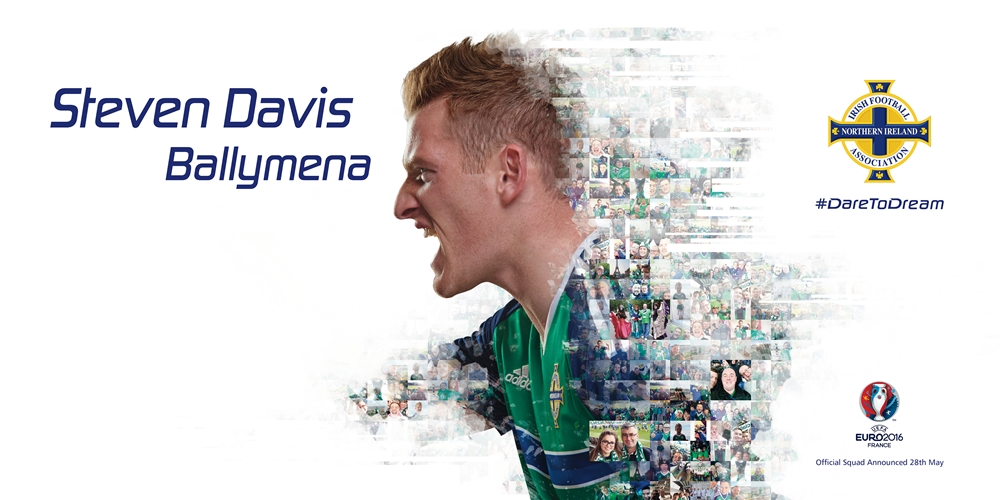 Giant billboards featuring the Northern Ireland squad and manager Michael O'Neill are to go up across the country from the start of next week as the excitement around EURO 2016 begins in earnest.
The billboards feature iconic images of the 30 players hoping to be on the plane to France and are made up of a mosaic of thousands of photographs, sent in by supporters.
With representatives from every county in Northern Ireland selected in the extended squad, the billboards also feature the name of the player's home town.
From Kesh to Cookstown and Donaghmore to Dungannon the giant posters will be displayed in, or near the place where each player grew up.
There are also billboards for those players who qualify to play for the country through ancestry. Eye-catching images of important squad members such as Jamie Ward, Oliver Norwood and Conor Washington will be displayed in sites across Belfast.
Jim Shaw, Irish FA President, said: "These billboards are a fantastic way of showcasing the players as the heroes that they are.
"Each one is a work of art in itself and they really demonstrate in a dynamic way that every part of Northern Ireland will be represented when the team runs onto the pitch in France.
"By showcasing the players as heroes in their own home town we hope to inspire the next generation of players, currently playing football in the parks and streets of their area, that they too could one day represent Northern Ireland in a major football tournament.
"The use of fan pictures to make up the billboard also highlights the breadth of support that this squad has and I have no doubt that the whole country will get behind Michael O'Neill and his players in the coming weeks."
The official Northern Ireland squad of 23 players for EURO 2016 will be announced on 28th May at 12pm.