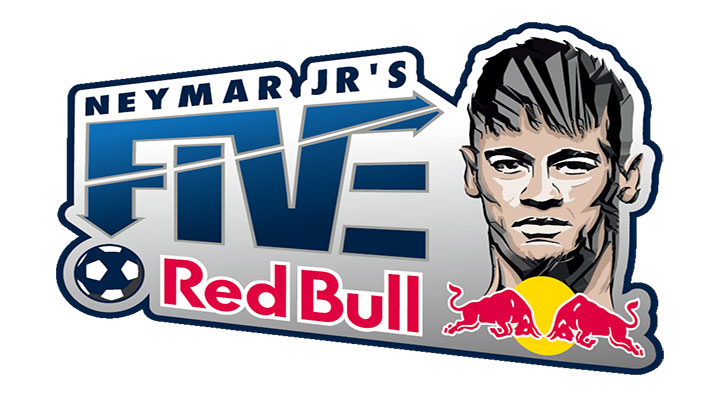 Former Northern Ireland International footballing legends Norman Whiteside and Jim Magilton were in the National Football Stadium, at Windsor Park to help launch a unique knockout 5 a side football tournament with a difference.
Red Bull's Neymar Jr Five is a fun, fast-paced and technical game that will give young local footballers (16-25 yrs) the opportunity to put teams of 5 to 7 players together to compete to represent Northern Ireland at the World Final in Brazil this summer.
Brazil and Barcelona's great Neymar Jr is giving thousands of youngfootball players in more than 35 countries, across 6 continents the chance to step up their game and team up for his five-a-side tournament 'Neymar Jr's Five'. "It's a fun, energetic and tactical game," said Neymar Jr, who grew up playing the same kind of fast-paced five-a-side football in his neighbourhood.
"It's the kind of football I've always loved to play and this time we play it with a special twist to it: the five-player teams lose one player each time they concede a goal until there are no players left, or the 10-minute game ends. This will be even more exciting."
The regional qualifying rounds will start next month in Belfast, Cookstown and Coleraine with a National Final taking place in Belfast (location TBC) on May 29th.
The winners of this will go on to represent their country in the World Finals in July in Praia Grande, where Neymar Jr grew up, started his professional career and lately founded "Instituto Projeto Neymar Jr".
Belfast born Norman Whiteside knows what a great opportunity it is to get the chance to take part in such an unusual tournament, having begun his own professional football career with Manchester United at the age of just 17 and holding the record for being the youngest player to take part in a World Cup.
"For such a small place in comparison to other regions the sporting talent here, especially in football, never ceases to amaze me," said Norman.
"I was very lucky to get the chance to play in some of the best stadiums in the world so to be a young 16 to 25-year-old and be offered the opportunity to play in the likes of Praia Grande or Camp Nou with your team of friends and represent your country is fantastic, never mind also getting to meet such a talent like Neymar Jr".
Jim Magilton, Northern Irish former footballer and manager, who works as Elite Performance Director with the Irish Football Association, and Manager of the Northern Ireland under-21 team is keen to give his support for the tournament also "It's a real privilege for Northern Ireland to have been asked to take part in this Global tournament so I would encourage as many clubs, individuals and friends who currently play 5 a side to really get behind this and sign up for the regional rounds which will be held in sports arenas across the province.
We are expecting the demand to be quite high therefore early registration is going to be necessary, to guarantee you get your chance to take part," said Jim. Teams of 5 to 7 players can sign up now to register their team for the first rounds of the tournament via www.neymarjrsfive.com Neymar Jr, who alongside Lionel Messi and Luis Suarez has lit up La Liga with Barcelona this season, helped devise the format and will also have the winning team as his guests at a match at the Camp Nou in Barcelona, Spain.
The world final will be held in July at the Instituto Projeto Neymar Jr in the state of Sao Paulo, Brazil.The institute's aim is to offer extracurricular educational and sporting activities to the most socially disadvantaged children and families to promote social inclusion and encourage participation in the community.
The Instituto Projeto Neymar Jr was opened in 2014 and is the second 'FutbolNet' program in Brazil in partnership with FC Barcelona Foundation after a first was set up in the favelas in Rio de Janeiro two years earlier.