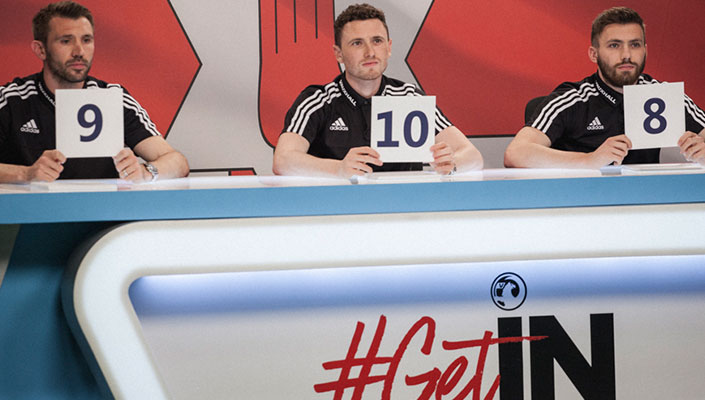 Northern Irish football heroes Corry Evans, Stuart Dallas and Gareth McAuley swapped their football boots for scorecards as the trio teamed up with Vauxhall Motors and Zoe Salmon to hunt for the ultimate #GetIN goal celebration ahead of the big summer of football in France.
The three players kicked off Vauxhall's campaign by becoming judges and auditioning the Northern Irish public. In true talent show fashion - the weird and wonderful acts competed to impress the famous judges – prompting a variety of reactions from surprise to amazement and, on occasion, pure disbelief.
Belfast born, Corry Evans was lost for words when 57 year old Jill Buchanan tickled his chin after performing her cheekily named "Jill's jiggle", whilst Stuart Dallas scored the dancing hopeful a very harsh '1' despite also getting a chin tickle and being told he was cute.
Gareth McAuley's initial surprise turned into fits of laughter as one performer, Josh Macdowell, completed a full dance routine, donning a sweatband around his head. Giving Simon Cowell a run for his money, Stuart Dallas was lost for words at the performance stating he "wasn't sure what to think of it to be honest".
Zoe welcomed and encourage all the acts and kept a straight face even when confronted with some of the slightly more unusual goal celebrations – including Harley Fox, who dressed for the occasion head to toe in Northern Irish green - and impressively kept up four large round hoops during her hula-hoop performance.
Gymnast, Mike Corr, impressed players with his exciting front and side ways celebratory flips but ultimately all three player judges were most impressed with Coleman James from County Down who beat off other competition by performing a body percussion routine. Coleman scored a perfect 30 out of 30 and his unique celebration will now become the official #GetIN celebration for Northern Ireland this summer and will be performed at a live event by the talented winners. 
Zoe Salmon said, "Corry, Gareth and Stuart all made excellent judges but it was clear that Stuart was the hardest judge to impress. It took a lot to get a high score from him but Coleman delivered on the day and was our well deserved winner. I loved working on this with everyone and as a patriotic Northern Irish girl, I will be getting behind the boys myself this summer with my own #GetIN celebration!"
Gareth McAuley said, "The boys and I had a great time judging for Northern Ireland's Vauxhall #GetIN goal celebration. The creativity of the auditions is what really surprised me. I might have to jazz up my own celebration and hope to show off a few #GetIN celebrations of my own in France this summer. 
As official sponsor of the Northern Ireland football team, Vauxhall Motors launched #GetIN to find a signature celebration that the public can collectively adopt to show their support for Northern Ireland.
"We wanted to do something that brought the Northern Irish public together to get behind the boys this summer" said Andrew Curley, Head of Sponsorship and Events at Vauxhall Motors. "The summer of football gives us lots of collective moments to celebrate from a winning goal on the pitch to a BBQ with friends with the game on – these are the #GetIN moments we want Northern Ireland to celebrate together."
"To inspire the public to get involved, we'll be hosting the audition content as well as other fun content on vauxhallfootball.co.uk and search #GetIN for more behind-the-scenes content, competitions and exclusive access to the teams."