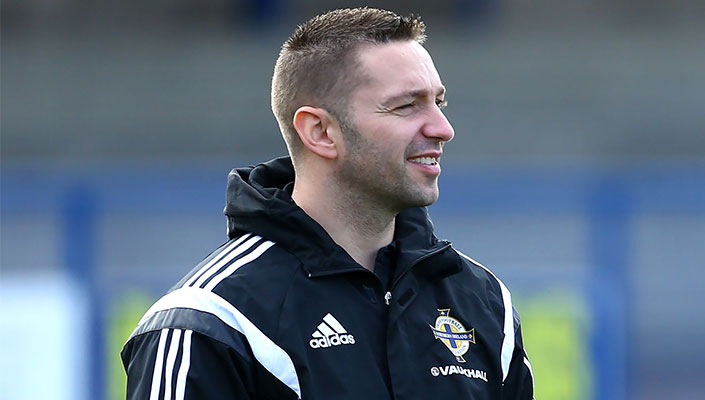 Michael O'Neill and his players have rightly received plenty of plaudits for reaching the European Championship Finals. But they would all agree the backroom staff also played a key role in helping Northern Ireland qualify for their first major tournament in 30 years – and will do so again in France this summer. In the run-up to Euro 2016 we are highlighting the unsung heroes who make up the team behind the team…
Name: Dr Richard McCann
Position: Head of Sports Science
It is amazing the lengths the sports scientists involved with the Northern Ireland team go to in order to ensure our players perform at their optimum.
Everything from their fitness levels to what they eat and their sleep quality is monitored to ensure they are ready for action.
Dr Richard McCann and colleague Paul Walsh talk about basing their work on four phases. The first is readiness to train, while the second is monitoring on-field training load. Fitness/conditioning and recovery interventions are the two other phases.
Richard concentrates on phase one, while Paul looks after the second phase, and both cover phases three and four.
When it comes to readiness to train, the Head of Sports Science basically monitors and screens players to ensure they are fit and able to train.
This includes wellness in addition to fitness levels. Each day the players complete a questionnaire which helps the sports scientists establish where they are both physically and mentally.
Sleep quantity and sleep quality form part of the questionnaire. Ensuring the players get a good night's sleep and rest well is high on the scientists' agenda.
The quality of a mattress, the room temperature, if the room is dark and the sheets are clean are all taken into account. They also advise players to switch off any devices, such as tablets, when they go to bed because the blue light emitted from them affects levels of the sleep-inducing hormone melatonin, which disrupts sleep.
The players' hydration levels are checked along with their body mass, and Richard also analyses any muscle damage. Techniques to tackle muscle damage include ice baths, rest, good nutrition and hydration.
And in France this summer Richard is even going to monitor each player's saliva to ensure their immune systems are in full working order.
When it comes to fitness and conditioning, Richard and Paul will either follow programmes devised by players' clubs or create programmes for each player.
Recovery interventions include ice baths, protein shakes, sleep, hydration, nutrition, massage and compression garments. There's also active recovery, which involves workouts on exercise bikes or in the pool and other mobility work.
Richard and Paul say the key to a good recovery is keeping the players nice and relaxed. They aim for 48-hour recovery periods which are free of high intensity workouts. 
The 37-year-old's work with the team even extends to designing menus for the players, which he does with a nutritionist colleague who, like Richard, works at Sport Northern Ireland's Sports Institute. Through their menus they aim for a balanced diet featuring carbs, protein and healthy fats.
Richard graduated from Ulster University with a degree in engineering and business, a PhD in bio-engineering with bio-medical applications and a Masters degree in applied sport and exercise science.
After working as a research assistant for Ulster University, in 2008 Richard joined the Sports Institute where he provides sports science support to some of Northern Ireland's top Olympic and Paralympic athletes from a range of sports including triathlon, cycling, sailing and rowing.
Richard, through the Sports Institute, has worked as part of the Northern Ireland backroom team since 2009.