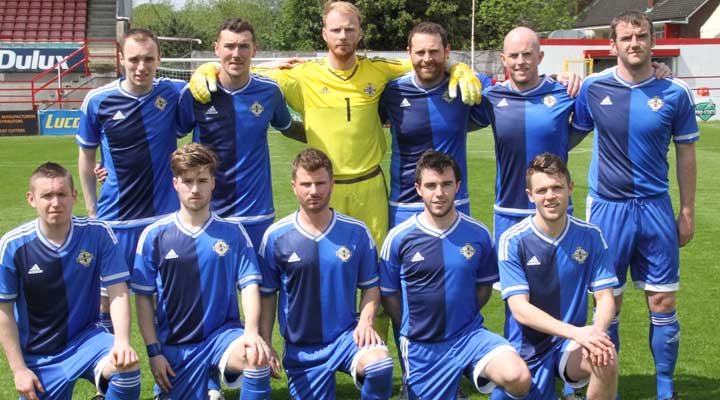 Northern Ireland are taking on the Republic of Ireland today in a Junior International friendly match.
The game at Tolka Park in Dublin (2pm kick-off) has been arranged to give Northern Ireland players who are outside the strict criteria of the Regions Cup competition a chance to represent their country.
It will also act as a warm-up for the Umbro Cup tournament next season. It was last held in Limerick in 2013 and was won by the Republic.
Harry McConkey, who manages Northern Ireland's Regions Cup and Junior International squads, explained: "Sadly Scotland failed to hold the Umbro Cup in Glasgow this month as was planned but thankfully Gerry Davis and the Football Association of Ireland have presented our squad with a very good junior international opponent.
"The boys were buzzing during our preparation session on Thursday night at Dungannon Youth Complex. They all want to end their season on a high in Dublin."
Experienced Ards defender James Cully will captain Northern Ireland in Drumcondra today. Michael Dougherty of Harland & Wolff Welders and Loughgall's Gareth Buchanan are the two keepers in the squad for the game.
Harry has five defenders to choose from. Three play for Ards: Greg Hall; Kyle Buckley and James Cully. The other stoppers in the squad are Graeme Taylor (Loughgall) and Lurgan Celtic's Stephen Hutchinson.
In the middle of the park three Armagh City players will be vying for a starting place – Stefan Lavery, Andrew Hoey and Philip Donnelly – but will face strong competition from Shane McGinty (Institute), Aaron Walsh (Loughgall), Stuart Hutchinson (PSNI) and Ryan Deans (Harland & Wolff Welders).
The Junior International boss has four strikers in his panel: Warner Mullen (Loughgall); Kevin Lynch (Sport & Leisure); Aaron Haire (Lurgan Celtic) and Larne's Guillaume Keke.