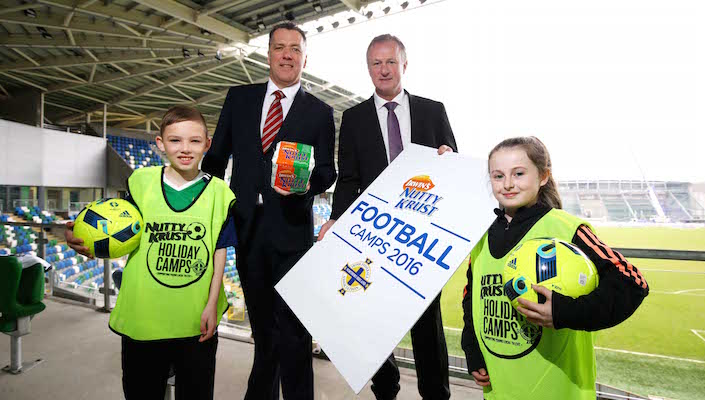 Nutty Krust football camps available to book now
Find a camp near you!
The Irish FA, in partnership with Irwin's Bakery, has launched its Nutty Krust Summer Football Camps for 2016.
The week long football camps, which are part of the Irish FA's Grassroots Development Programme, will be staged in 71 locations across Northern Ireland throughout July and August.
The Nutty Krust camps provide opportunities for children aged 5-13 to develop and improve their football skills in a structured environment with professionally trained and vetted staff.
For the first time ever the Irish FA will be hosting 12 camps specifically for goalkeepers. These promise to be popular camps with Northern Ireland having produced some of the world's top goalkeepers over the years such as Pat Jennings and Roy Carroll. There will also be a disability camp taking place in Belfast from 15 – 19 August, which has been very popular in the past.
Last year more than 6,500 boys and girls took part in the camps, an increase of 20% on 2014.
Places at the camps are available at a special discounted price if booked online and kids who attend will be awarded a Nutty Krust gift bag and and adidas football.
Colette Wilson, Marketing Manager for Irwin's Bakery, said: "Irwin's has a long history of supporting grassroots sports development in Northern Ireland and we are delighted to continue our partnership with Irish FA. This is the 9th year we have sponsored the Nutty Krust Summer Football Camps and the partnership has been a brilliant way for us to engage with the local community – as well as encouraging kids to get active."
Ian Stewart, Grassroots Development Manager, Irish FA, said: "I would like to thank Irwin's Bakery for their ongoing support of our camps. Our team of grassroots development officers, coaches and volunteers are looking forward to delivering our biggest Summer programme ever.
"The Irish FA recently are aiming to double youth football participation rates in Northern Ireland by 2025 through the new youth strategy Let Them Play. The Nutty Krust football camps are central to achieving that aim and are hugely important as we seek to grow the game right across the country and find the next generation of Northern Ireland football stars."
For more information about the Nutty Krust Summer Football Camps visit www.irishfa.com/footballcamps or contact Michael Finch at the Irish FA's Football Development Department on 028 90 669 559 or at mfinch@irishfa.com