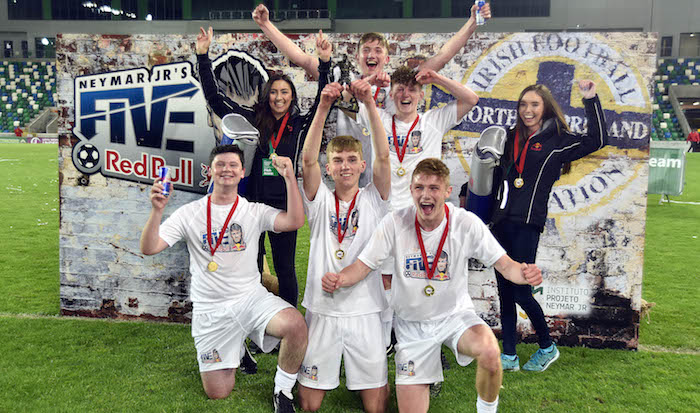 Local lads from the Distillery Elite team were ecstatic when they landed 4 successive goals against their opposition GFC Dropouts, at the regional final of the Neymar Jr's Five Football Tournament, at the National Stadium at Windsor Park, sealing their place in the National Final in Brazil this summer.
Captain Daniel Larmour who plays for Lisburn Distillery U19 team, as does his team mates Brian Trohear, Darius Roohi and Thomas Macklin along with Chris Elliott who plays for Tullycarnet will compete in qualifier events against 35 other countries from 6 continents to take part in the World Final at 'Instituto Projeto Neymar Jr' in Santos, Brazil – the home turf of one of the greatest Brazilian footballers of all time, Neymar Jr.
Daniel said "It is a great honour for us not only have watched our national team beat Belarus here in the magnificent National Football Stadium, but to play on the same pitch as them directly after the game and win, giving us the opportunity to represent Northern Ireland ourselves in Brazil.  It is unreal and hasn't really sunk in yet!  Honestly, myself and the lads are absolutely over the moon as are our parents and friends who were all there to support us on Friday night".  
"We are a young team of 17 years old and whilst we have to do a bit of studying over the next few weeks for our A levels, we will be sneaking in a bit of training when we can, to get ready for the big event in Brazil.  I've no doubt we will see some new raw talent at the qualifiers, play against some up and coming big names for the future and who knows, we may even surprise you all and come back with some silverware ourselves," said Daniel.
Neymar Jr, who alongside Lionel Messi and Luis Suarez has lit up La Liga with Barcelona this season, helped devise the format of this fun, fast-paced and technical 5-a-side game with a special twist to it: the five-player teams lose one player each time they concede a goal until there are no players left, or the 10-minute game ends, which makes it even more exciting. 
The world final will be held in July at the Instituto Projeto Neymar Jr in the state of Sao Paulo, Brazil. The institute's aim is to offer extracurricular educational and sporting activities to the most socially disadvantaged children and families to promote social inclusion and encourage participation in the community. The Instituto Projeto Neymar Jr was opened in 2014 and is the second 'FutbolNet' program in Brazil in partnership with FC Barcelona Foundation after a first was set up in the favelas in Rio de Janeiro two years earlier.