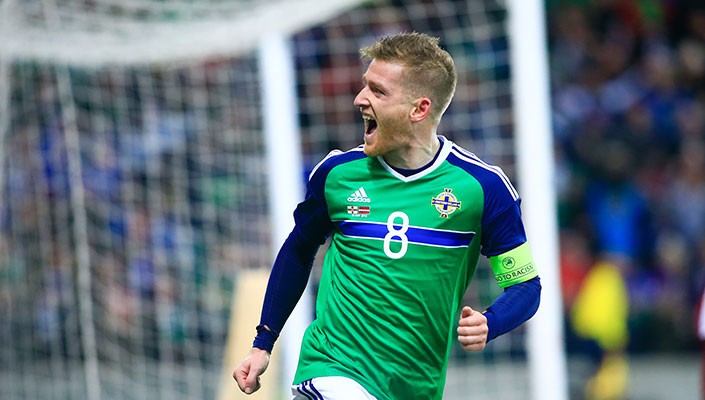 Northern Ireland skipper Steven Davis doubled his tally of goals for the season after his brace secured a 2-1 Premier League win for Southampton over Spurs at White Hart Lane yesterday.
The 31 year-old, who last scored twice in a game for the Saints in August 2013, was delighted to get on the scoresheet as well collecting another precious three points which sees Southampton still in with a chance of a Europa League spot.
"I kept getting into the positions and it was nice to see both go in," said the Ballymena-born midfielder, "I was perhaps a little bit surprised at the two goals, but I enjoyed that and I'll take it all day long. 
"I think we got the goals at good times in the game. Fraser [Forster] pulled off a couple of great saves as well.
"It was a whole team performance that everyone deserves credit for. We worked hard for it and we're delighted with the win."
Elsewhere in the top flight in England, Jonny Evans provided the assist for Rodon's 16th minute goal in West Brom's 1-1 draw at Bournemouth.
Northern Ireland Under-19 striker Louis Rooney had a spectacular debut for Plymouth Argyle in League Two when he scored twice in the 5-0 demolition of Hartlepool United at Home Park.
Rooney, who had being an unused substitute on 22 occasions for Argyle this season, grabbed his first senior goal with a magnificent 20-yard volley and capped his memorable day when he headed home a second seven minutes from time.
"It really got to me when I got first goal," admitted the 19 year-old, "If you don't have a go, you are not going to score. None of the lads were near me at the time so I had to run straight to the fans.
"To go on and get the second was even better. That was probably more the type I usually score.
"It was the best feeling so far in my life to make my debut, I have waited a long time to get that opportunity to actually start and be on the pitch. It's unreal. It really is."
Striker Will Grigg made his mark yet again with his 28th goal of the season, however it was a mere consolation for the 24 year-old as League One Champions Wigan Athletic slumped to a surprising 4-1 home defeat to Barnsley.
Meanwhile former Larne midfielder Robbie Weir will be playing Championship football next season after Burton Albion secured a second successive promotion following their scoreless draw at Doncaster Rovers.
Finally, former Northern Ireland defender Michael Duff ended his playing career at the weekend when he made his 384th appearance for promoted Burnley in their 3-0 success at Charlton.
The 38 year-old, who won three promotions with the club during his 12 years at Turf Moor, will now become part of the coaching staff at the Lancashire outfit.
"When I got here, people were saying he might be on the edge of going down the way instead of up the way, but  I take people as I find," said Burnley boss Sean Dyche.
"He played virtually every game for me two years ago in the promotion season, and then a lot of games in the Premier League.
"He'll be staying with us on the coaching staff," added Dyche. "We're defining his role at the minute.
"He's been brilliant, an amazing servant to the club."