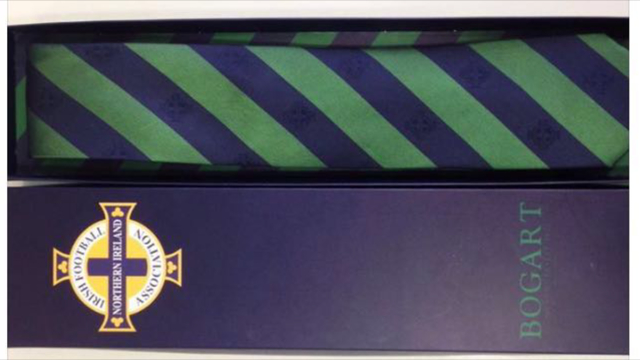 500 bespoke, limited-edition ties for France now on sale through Irish FA's official suit partner. 
A bespoke, limited-edition piece of new memorabilia is now available to Northern Ireland fans, with 500 of the official ties which the international players will be wearing in France this summer going on sale. 
The silk green and navy tie is stylishly embossed with the Irish FA logo, and comes in a specially-designed presentation box. It is now available to buy at Bogart's two Belfast city centre stores and its Newry store – as well as online at www.bogart.co.uk
Bogart, the Irish FA's official suit partner, has announced it will be donating a percentage of the sale of every silk tie to Cancer Fund for Children. The donations will help Cancer Fund for Children in providing vital support to children, teenagers and young adults living with cancer and their families.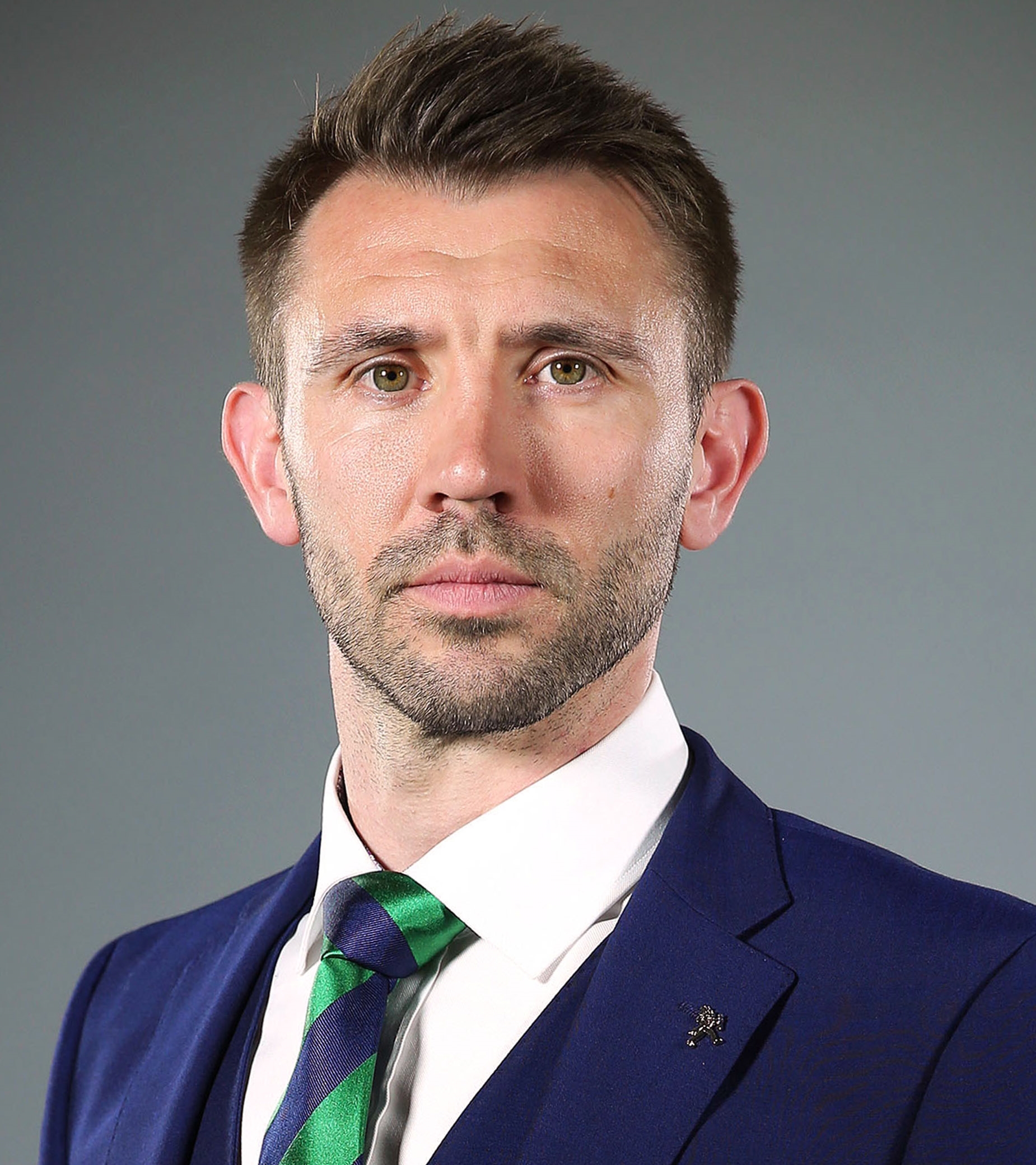 With only 500 ties going on sale, members of the Green and White Army are being urged to waste no time if they want to get their hands on what is set to become one of the most coveted souvenirs of Northern Ireland's first appearance in a major football tournament in 30 years.
The tie is part of the new, tailor-made suit which the leading menswear retailer has worked in conjunction with lifestyle brand Herbie Frogg to design and produce. The navy three-piece, which is completed by a pair of brown Derby shoes, was officially unveiled by Northern Ireland stars including Gareth McAuley and Jonny Evans in March.
 Announcing the charity partnership, John Keenan, Managing Director of Bogart, commented:
"The players absolutely loved the suits and ties when they came into our Belfast store to get measured up, and the feedback on social media and from customers has been tremendous. The ties have now arrived in store and, given they are limited edition, I'd encourage supporters to move quickly before they sell out."  
"We're delighted to partner with Cancer Fund for Children and raise money through the sales of the official Northern Ireland team tie. The interest in the suits and ties since they were unveiled has been phenomenal, and it's nice for the Northern Ireland fans to get the chance to show their support for the team and help the charity at the same time."
Bogart has two Belfast city centre stores, in Ann Street and Callender Street, and one in Newry's Canal Court. The ties can be purchased in all stores and online at www.bogart.co.uk
Sorcha Mac Laimhin from Cancer Fund for Children said:
"We are delighted to be involved with the Northern Ireland football team. The players have generated a real feel-good factor throughout the country by qualifying for France and it's fantastic that local children affected by cancer will be benefitting from the sales of the team's official ties.
"I would like to thank Bogart for their generous support, and I know that local football fans will be looking for all sorts of ways to show their support for the team. They can be sure that by getting their hands on a limited edition tie, they will also be showing their support for hundreds of local families living with a cancer diagnosis."         
Bogart is Belfast's longest-established city centre menswear retailer, having been in business since 1971. The company operates two Belfast stores, in Ann Street and Callender Street, as well as a shop in Newry's Canal Court.
The family business is headed up by Newry native and company Managing Director John Keenan, working alongside sons Gary, Mark and Neil.
For more information about how to purchase the Northern Ireland tie, visit www.bogart.co.uk or call 028 9023 2148.