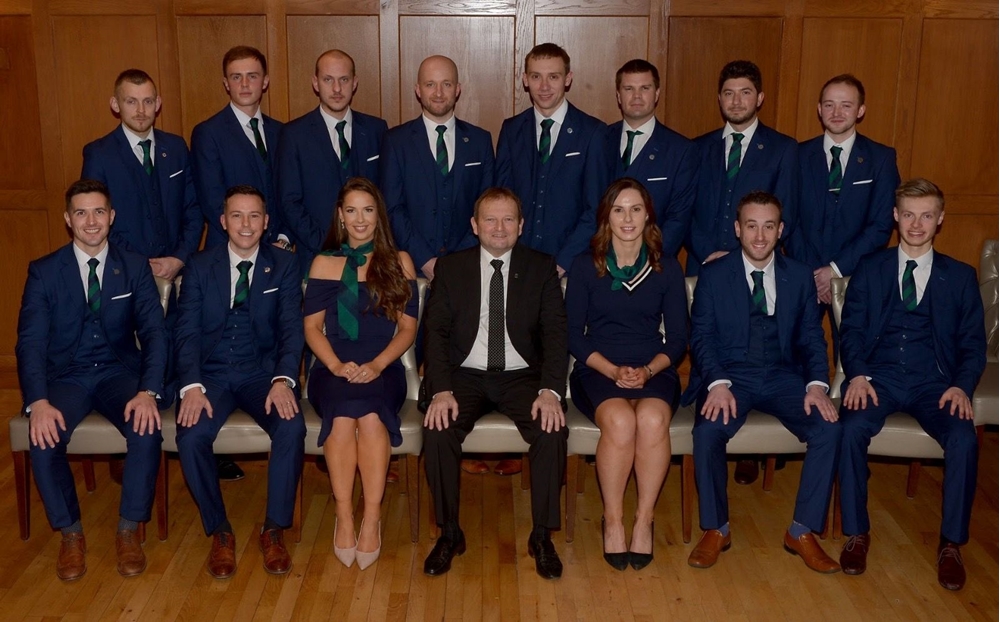 Irish Football Association referees who will wear the FIFA international badge for 2020 have received recognition from the association.
Irish FA President David Martin, who is also chairman of the association's Referees Committee, acknowledged the referees' success at a special ceremony staged in the Dunadry Hotel in Co Antrim.
He was joined by members of the Referees Committee and Malcolm Moffatt, the guest of honour. Malcolm, who served as a FIFA referee between 1975 and 1986 and officiated at the 1982 World Cup in Spain, presented each official with their 2020 badge. 
Gareth Eakin was presented with a trophy to acknowledge that 2020 will represent his 14th year as an international assistant referee. Mr Martin said he had given outstanding service to international football. 
The President insisted all the officials on the FIFA list this year were ambassadors for not only the Irish Football Association but also Northern Ireland, adding that each of them was a role model for referees who operate at all levels of the game here.
New to the list of Irish FA FIFA male referees this year is Jamie Robinson. He joins Keith Kennedy, Ian McNabb and Tim Marshall on the list.
Louise Thompson is the Irish FA's new female referee on the FIFA list, while Victoria Finlay has become a FIFA assistant referee.
Ryan Kelsey and Andrew Nethery, meanwhile, are new to the FIFA list of male assistant referees for 2020. They join Stephen Donaldson, Gareth Eakin, David Anderson, Paul Robinson, Stephen Bell and Georgios Argyropoulos on the list.
FIFA officials are eligible to take charge of international, Champions League and Europa League fixtures.
Trevor Moutray, the Irish FA's Head of Refereeing, noted it was the first time the IFA had more than one female official on the international list in a calendar year, adding that this was a tangible endorsement of the work being done to develop female officials in Northern Ireland.
He also encouraged more females to take up the whistle, saying the processes and pathways are now well embedded in the Irish FA. He said with the required application and commitment any female official can follow Louise and Victoria's "impressive lead".