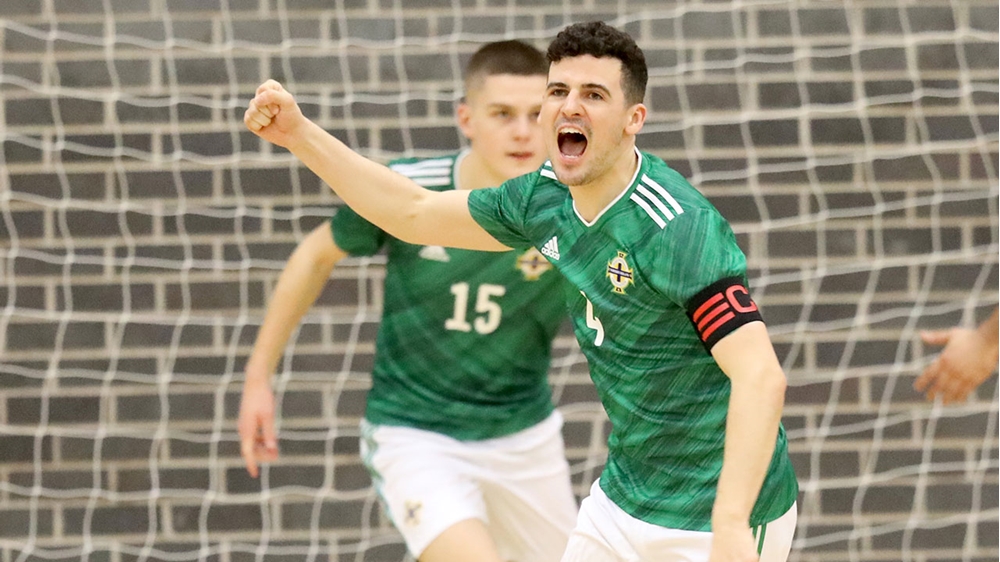 Northern Ireland men's futsal team head coach Jonathan Michael has stuck with a tried and trusted squad for next week's Euro qualifiers in Lithuania.
Michael's panel for the three matches is unchanged from the one that competed against Gibraltar in two friendly internationals in Newry earlier this month.
Northern Ireland, who registered an emphatic win and a narrow defeat against the Gibraltarians, are set to face Hungary, Turkey and the Lithuanians in the preliminary round of UEFA Futsal Euro 2022 qualifiers from Wednesday to Saturday.
The winners of nine preliminary round groups will progress directly to a qualifying group stage, while nine runners-up and five best third-placed teams will enter qualifying play-offs. Through qualifying groups and further play-offs 16 teams will eventually progress to finals in Netherlands in January 2022.
Michael said: "The group have prepared well for these games and have shown signs of improvement in our involvement in the Home Nations Championship in December and in the games against Gibraltar at the start of the month. 
"The Euro qualifiers provide opportunities for us to test ourselves against strong opposition and see how much we have improved in recent years.  We know we will face incredibly difficult tests against Hungary, Lithuania and Turkey but the squad are looking forward to giving of their best in these games."
Game one in Preliminary Round Group E will see Northern Ireland take on Hungary in Jonava next Wednesday (29 January).
The following day they will be back at the Jonava Arena to face hosts Lithuania, while their final game is against Turkey at the same venue on Saturday 1 February.
The Northern Ireland men's futsal squad for stage one of the Euro qualifiers features. 
Goalkeepers
Matthew McErlain (Sparta Belfast Futsal Club), Philip Irvine (World United Futsal Club); 
Defenders
Adam Barr (Baku United Futsal Club), John Gibson (Banbridge Town Futsal Club), Darius Roohi (ED Brunete Futsala); 
Wingers
Scott Gunn (Durham Palatinates Futsal Club), Craig Taylor (Belfast United Futsal Club), Ryan Dabbs (Cardiff University Futsal Club), Jordan Wilson (Sparta Belfast Futsal Club), Conor Glenholmes (Wattcell Futsal Club), Josh Lowry (Sparta Belfast Futsal Club), Conor Kernohan (Bolton Futsal Club);
Forwards
Connor Millar (Reading Royals Futsal Club), Chris Donnelly (Wattcell Futsal Club).
Caption: Northern Ireland Futsal captain Adam Barr celebrates scoring against Gibraltar.