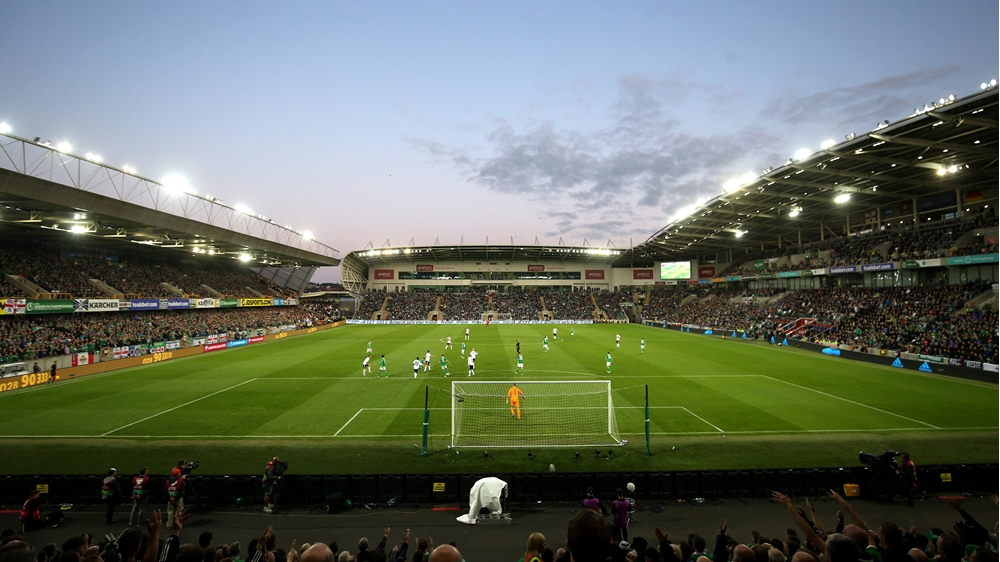 At the turn of a new year, Irish Football Association Chief Executive Officer Patrick Nelson reflects on the numerous achievements of 2019 and looks ahead to what's set to be an exciting 2020 and beyond for the IFA.
There were too many 2019 highlights to list exhaustively here, however, these are just a few.
Great performances against Belarus and Estonia set us up for automatic qualification for UEFA Euro 2020 and we gave everything against the might of Germany and the Netherlands and came so close to sealing our place at the finals.
Our new senior women's manager, Kenny Shiels, has made an immediate impact with two well-deserved draws against higher ranked Wales in the UEFA Euro 2021 qualifiers. 
On the youth international front, we warmed up for this summer's UEFA U19 finals by hosting a mini tournament featuring Northern Ireland, Germany, Norway and Portugal, and our women's U19s qualified for the elite round of their latest tournament. 
On the football administration side, COMET was fully implemented before the start of this season, bringing with it a huge revolution in the way leagues, clubs and matches are managed in Northern Ireland.  
UEFA recognised the IFA in significant ways in 2019. We gained gold status for our grassroots work and in September we learned that we had been named as the hosts for the UEFA Super Cup 2021 which will undoubtedly be the biggest club match ever staged in Northern Ireland. 
The IFA / UEFA Elite Youth Academy, established in September, is the first of its kind and a major shift for youth development in this country. The academy, based at Jordanstown in partnership with Ulster University (UU), operates under the directorship of Jim Magilton, the Irish FA's Elite Performance Director. Extensive work was carried out to secure UEFA's commitment and that of the UU.
Finally, we received both a Royal and presidential seal of approval for our work with visits from the Duke and Duchess of Cambridge and the President of Ireland. 
Looking forward to this year, we are nicely set up in both senior international competitions. On the women's side, we play Belarus and the Faroe Islands with the hope of at least making it to the play-offs, if not automatic qualification. For our senior men, Bosnia and Herzegovina and either Slovakia or the Republic of Ireland stand in our way on the road to UEFA Euro 2020. 
We will continue to set the hosting standard for UEFA youth finals in 2020 with the next edition of the UEFA U19 finals. The tournament will be very well organised and U19s boss Stephen Frail will have our team well prepared to take on the best in Europe. 
Off the field, everyone in Northern Ireland is hoping that after three years of stalemate, the teams in Stormont will get back together and we will have a functioning government. 
Additionally, in 2020 the IFA will begin the preparatory work on its next corporate strategy. We launched the current strategy in 2017 after a year of research and consultation and it is time for us to look again at the far horizon, this time through to the middle of the new decade. As well as building our own team's achievements we will be looking to host more prestigious events at the National Football Stadium over the next few years including further UEFA youth finals, the UEFA U21 finals and the UEFA Women's Champions League Final at some point.
It would be remiss of me not to mention Michael O'Neill. Although he left us to join Stoke City in November, he leaves behind a tremendous legacy over eight years as senior international men's manager and Chief Football Officer. He will be back with us in March for the UEFA EURO 2020 play-offs and we continue to plan for his permanent replacement.
So, in summary, lots to look back on with pride in 2019, and even more to achieve in 2020. We look forward to helping make football in Northern Ireland the best it can be!
Patrick Nelson, CEO, Irish FA