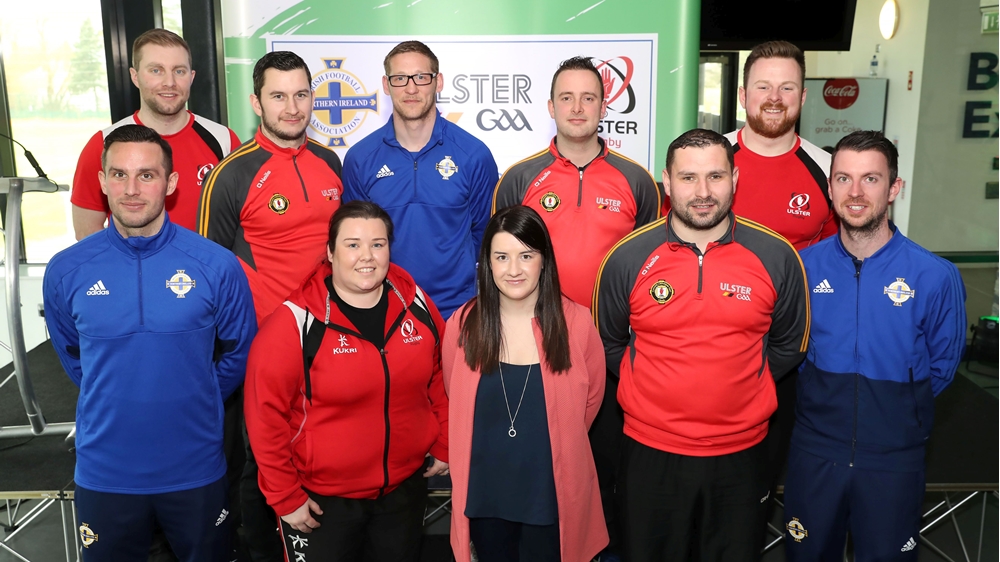 In an ongoing Q&A series we are highlighting the people who make the Irish Football Association tick.
Name: Sarah Keys.
Job title: Project & Finance Manager, Irish FA Foundation.
How long have you worked for the Irish Football Association?
Almost seven years. My first role was working with the Football For All team under Michael Boyd (Director of Football Development). I loved it and I haven't looked back. 
What's your role within the organisation? 
I head up the Sport Uniting Communities project, the Irish FA's EU-funded programme in partnership with Ulster GAA and Ulster Rugby.
The three organisations work closely together and staff on the project are much more likely to spend time working with the Sport Uniting Communities team than they would with staff from their own organisations.
Describe a typical working day for you.
It depends what's happening. We have a team of nine development officers working across Ulster so I could be in Armagh (where Ulster GAA has its HQ), the Kingspan Stadium (home of Ulster Rugby) or the National Football Stadium at Windsor Park for meetings. 
Alternatively I could be out at one of our events like Game Of Three Halves (where young people get to try football, rugby and Gaelic games in a training session), at workshops with clubs and volunteers or representing the project at board meetings or public events. 
Other days I might be more office-based - my office is in Derry-Londonderry - and spending my time managing the budgets, completing funding reports and preparing finance claims. 
Every week is different and I work with lots of staff from each organisation, which is what I like so much about this role.
What are you most proud of?
Apart from my family, working on the Football For All project is a highlight. 
With EU funding and support from hostels in Derry, I formed the North West Street League. In our first year one of our players was selected for the Northern Ireland team to compete in the 2013 Homeless World Cup in Poland. 
The North West Street League is now part of Northern Ireland Street Soccer and it's still going strong.
More recently I worked on the Irish FA's mental health strategy. Although I have since moved to other projects, I am proud of all the work the Irish FA has done to put this really important issue front and centre.
Sport Uniting Communities is the Irish FA's biggest EU Peace-funded programme to date. We have just completed a really successful first year thanks to the hard work of all the staff. We are aiming to have even more impact in 2019. 
Where did you work – and in what roles – before you joined the IFA?
I worked in Kealy's Seafood Bar in Greencastle - I live in north Donegal - for about eight years while I was at school and until I completed my Masters degree. Then I worked as Training Officer with Young Enterprise on a peace and reconciliation project before joining the Irish FA.
Where did your love of football emanate from?  
I wasn't really a football fan in my teens so I really believe we would be millionaires if my husband wrote a book about brainwashing!
I have been converted from a fair weather Spurs fan to a slightly obsessive Liverpool fan who now watches Match Of The Day even when the other half is working nights. I love local football because it's my guaranteed two hours of fresh air every Sunday. You will find me cheering on Moville.
What qualifications do you have?
I did my undergraduate degree in International Politics and I have a Masters in Peace & Conflict Studies.
Any other interesting facts about you that we should know?
I love the sea and swimming in the summer. Coming from North Donegal - I live just outside Moville - means I'm only ever five minutes from a beach which is where you'll find me and my family rain or shine.
Image: Sarah Keys (front, centre) with the Sport Uniting Communities team.