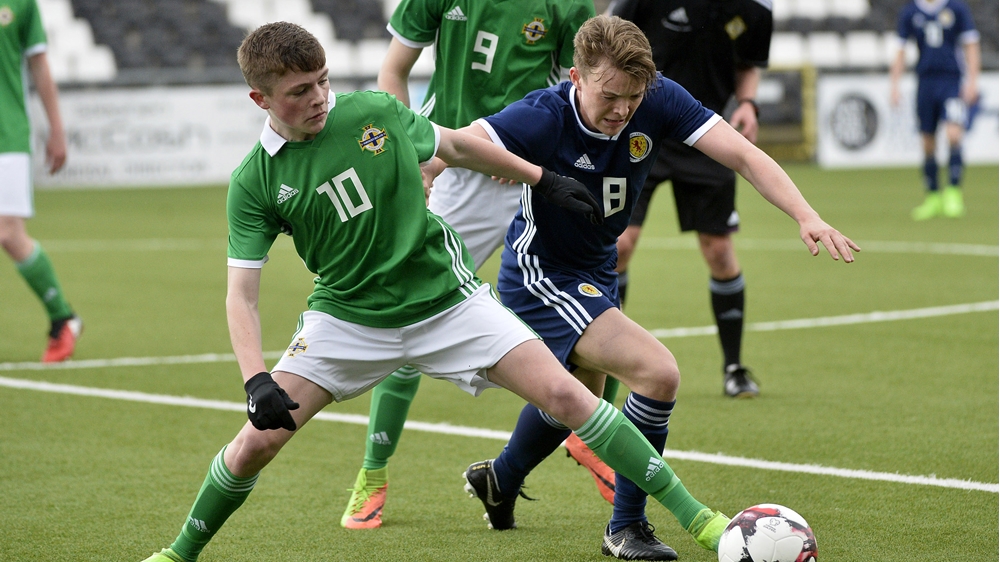 Northern Ireland's disabled footballers will be taking part in European championships, a Home Nations championship and a development tournament featuring teams from around the globe among other activities in 2019.
Alan Crooks, the Irish FA Foundation's Disability Football Development Manager, has revealed the next 12 months will be action packed when it comes to disability football in Northern Ireland.
The association/foundation strongly support disabled football, from powerchair football and Learning Disability (LD) football to running Northern Ireland's Disability Football League.
Northern Ireland's powerchair team will be taking part in their first international tournament in May. They are set to compete at the Powerchair European Championships in Finland.
Preparations for the four-a-side tournament will include friendly matches against Republic of Ireland and Scotland. Both games will be staged in the coming months at Avoniel Leisure Centre in east Belfast where the Northern Ireland squad train every weekend.
Crooks explained the 10-strong training squad, which will be whittled down to six for the trip to Finland, features players from Northern Ireland's four powerchair football clubs.
The Learning Disability team, meanwhile, are gearing up for the Home Nations under-19 championships in Wales in April.
The U19 squad train at Ashfield Boys' High School every fortnight and Crooks is confident they will do well in the annual 11-a-side tournament in Cardiff. "We have a squad of 16 dedicated and gifted young players. It's the best LD team we have ever had," he insisted.
Northern Ireland last secured the Home Nations title four years ago – when the tournament was staged in Wales.
The Cerebral Palsy (CP) squad are also in training. You will find them being put through their paces at the Hanwood Centre in Tullycarnet, east Belfast, on two Sundays each month.
Crooks has assembled a young squad who will be competing in an International Federation of CP Football (IFCPF) seven-a-side development tournament in Barcelona in June. They will be up against the likes of Brazil, Germany, Denmark and Scotland in Spain.
Running the Disability League is another mainstay of the association/foundation's disability football work each year.
There are now 23 teams competing across a four-tier league system, with games being staged at the Valley Leisure Centre in Newtownabbey each Saturday.
Crooks explained senior clubs like Crusaders, Coleraine and Glentoran have thriving disability sections but he would like to see more of Northern Ireland's top clubs embracing disability football. "Part of my role is to encourage well established clubs to create disability sections. It would be great to get even more teams playing in the league," he said.
Other initiatives on the disability football front this year include continuing to develop a participation programme for visually impaired players and staging the annual Community Cup, which is set to feature 72 teams from across the UK and the Republic. Newcastle United, QPR and Charlton are among the teams who will be competing in the tournament in June.
Numerous competitions for Northern Ireland schools which cater for pupils with special educational needs are on the agenda, too, along with a drive to improve the experience for disabled fans at international matches at the National Football Stadium at Windsor Park. 
Image: The Northern Ireland Learning Disability (LD) team in action against Scotland last year.