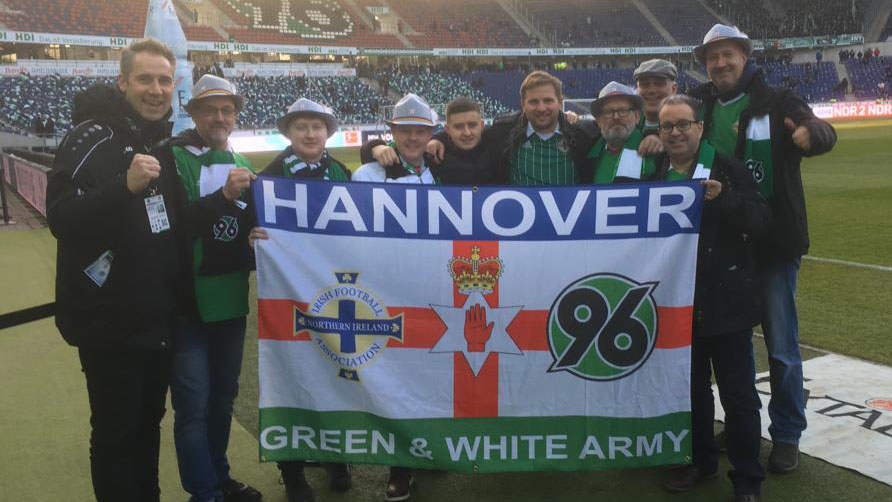 The exploits of the Northern Ireland senior men's team and our fans, the Green And White Army, have attracted international support for both. In an ongoing series we are highlighting the GAWA's global connections.
When Northern Ireland played Germany in a World Cup qualifier in Hanover in October 2016 nearly all of the 49,000 fans in the HDI Arena joined in with the GAWA's songs.
It was an indication that German fans had much love for the GAWA – and they enjoyed them singing 'Will Grigg's On Fire' in particular.
In both World Cup 2018 qualifiers against Die Mannschaft, and prior to the game against Joachim Low's team in Paris during Euro 2016, the various German TV companies focused on the Northern Ireland fans as much as the team, so perhaps it is no great surprise to find there is now a Hanover branch of the GAWA – and the fans are all German nationals.
Long-standing Northern Ireland supporter Piers Dalgarno, from Ballygowan, and his group of GAWA friends arguably helped to form the new branch (it's Hanover in English and Hannover in the German language) by befriending a group of Germany fans in Paris in the summer of 2016.
He explained: "On 21 June 2016, on leaving the Parc des Princes in Paris, my friend Tony McAllister, my brother Fergus, my son Colm and myself were happy that, due to Michael McGovern's heroics, we would be returning to France to see Northern Ireland play again. 
"As we made our way down a side street near the stadium we passed a camper van with German number plates and heard voices calling to us to join them and to have a beer. They told us we were the best fans ever in the world." 
Two and a half years later six of GAWA's best - Tony McAllister, Michael Scott, Gareth Scott, Paul Durnien, Simon Durnien and Piers - were treated like royalty at Hannover 96's home Bundesliga game against Werder Bremen last weekend.
Hosting them were German GAWA members Soren Peschke, Jana and Konrad Mader, Michael Braun, Oliver Priebe and Marco Kresic, who is actually on the coaching staff at Hannover 96. Michael and Oliver are from Berlin.
Piers continued: "We were collected from Hanover airport, fed in a lovely restaurant, accommodated free of charge in an apartment and provided with free business class hospitality at the HDI stadium. Our German GAWA could not have done more for us." 
The Ballygowan man's GAWA branch consists of Michael and Gareth Scott (Ballynahinch), Tony McAllister (Belfast), Paul and Simon Durnien (Belfast), Ryan Brooks (Saintfield), Ryan Cunningham (Belfast), Geoff Bannatyne (Saintfield), Steve Smith (Saintfield), Dawn Stewart (Belfast) and Piers, Fergus and Colm Dalgarno. And collectively they call themselves Hallions.
Piers further explained: "I was in Spain for the 1982 World Cup and in France for Euro 2016 with Tony, my son and my brother.
"Tony and I have been friends for decades. We all met Geoff (Bannatyne) during the Euros in France and again in San Marino. Since then we have introduced all our GAWA friends to the German folk we met in Paris. Everyone has welcomed them with open arms and the momentum has built, culminating in the Hannover 96 experience. Unfortunately we did not bring Hannover any luck as they suffered a one-nil home defeat to Werder Bremen."
Members of the Hanover GAWA have already travelled to Belfast to see Northern Ireland v Germany in the World Cup 2018 qualifiers and for the Nations League game back in the autumn against Austria. And they were in Basel for the World Cup play-off against the Swiss and in Vienna for the away Nations League game against the Austrians.
Six members of the Hanover GAWA are now planning to be in Belfast on 21 March for the opening Euro 2020 qualifier against Estonia. 
As they would say in Deutschland… das ist fantastisch.