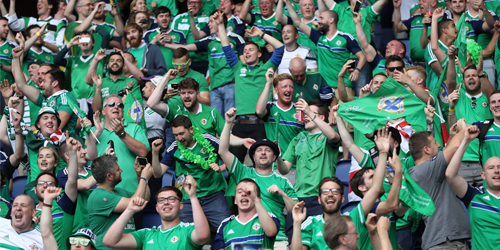 The England fans sing merrily about football coming home but closer to home it happened in the 1970s.
Way back in 1975 I sneaked out of school early (probably not strictly true as I had asked permission) and went with my brother to watch the return of Northern Ireland and international football to Belfast.
The match against Yugoslavia came after a four-year hiatus because of the Troubles and 'home' matches were played in Hull, Coventry, Sheffield, Liverpool, Glasgow and London during that time.
Connection with the fans was largely lost and the poorly attended and mostly irrelevant matches trundled on, and if the circumstances had not been halted the participation of the Northern Ireland team in international football could have ended. 
However, IFA chiefs Harry Cavan and Billy Drennan were not prepared to let this happen and after representations to government and police, seeking support and reassurances, in April 1975 they persuaded (it probably helped that Cavan was the FIFA Vice-President at the time) the Yugoslavs to come to Belfast. 
Its significance as one of the most important matches I have attended cannot be underestimated. 
The match kicked off at 5pm to ensure fans were home at a decent hour as the Troubles continued to rage, but without 1975 we would not have enjoyed the golden era of Billy Bingham, could not have been thrilled by the goals of David Healy and certainly would have been watching the 2016 Euro finals (fans pictured) on the television.
It was not the best match against Yugoslavia but it was won (with a scrappy Bryan Hamilton goal) and the atmosphere of euphoria and relief carried the team forward to many more successes.
Nor was it the best goal, but every winning goal is priceless, and the match also marked the introduction to the Belfast crowd of a long and gangly blonde-haired centre forward from Bury who led the illustrious Yugoslavs a merry dance: Derek Spence.
Like it or not, international football has a tendency to define us. We are proud of our wee country and our wee team. We love all the players, follow their clubs and worry when they get injured or suffer loss of form. We watch with interest on transfer deadline day to see if any of our heroes will be moving on to other clubs (bigger or better or maybe not). 
We cannot imagine how painful not being able to play at home would be, so we should enjoy and savour every match - win, lose or draw.
This article is adapted from a piece by William Campbell which first appeared in the matchday programme for the Northern Ireland v Israel international challenge match in September 2018.