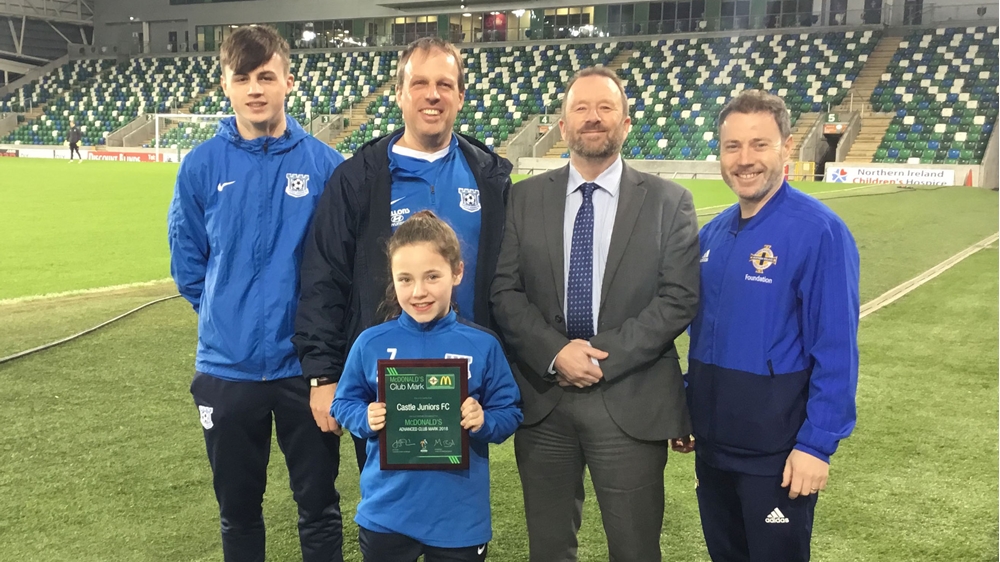 The latest clubs to achieve the McDonald's Irish FA Foundation Club Mark accreditation have been presented with their awards.
Castle Juniors Football Club received a McDonald's Advanced Club Mark Award, while Rosario Youth Football Club and Ballynahinch Youth Football Club each received McDonald's Club Mark awards.
Castle Juniors are among only a handful of clubs in Northern Ireland to have achieved the Advanced Club Mark. The Bangor-based club have more than 50 teams, including men's, women's, youth and disability squads. 
The club, who can already call on 120 volunteers, have started developing future coaches by training up players from their youth teams, placing them on Irish FA coaching courses and getting them involved with all age groups across the club.
The Co Down club are currently focusing on developing their girls' teams as well as continuing the good work that's already being done in the local community.
Rosario Youth Football Club are one of the most prominent clubs in Northern Ireland and have been serving the people of south Belfast for more than 100 years. 
The club have almost 900 players - aged from five to 55 - playing each week across 53 teams. They are a well supported club with more than 180 volunteers. 
Rosario YFC are looking forward to returning to their home ground, Ulidia, at the end of the month where new floodlit 4G facilities have been installed. It means they will be able to offer more playing time and further develop sporting opportunities in the south of the city.
Ballynahinch Youth Football Club were formed in 2008 and have grown impressively over the years. The club are based at Assumption Grammar School in the Co Down town and have more than 100 players across their youth section and women's team. 
The club have had several players progress through their ranks to represent the Northern Ireland senior women's team. The club promote mental health awareness in the local community and as part of their plans to grow they are aiming to enter their first ever all-girls youth team into their local league.
The McDonald's Club Mark accreditation is a benchmarking system designed to help clubs instil a culture of best practice and strive to a quality standard that will help them become all-embracing in the community. 
The Club Mark award highlights and acknowledges the quality of a club across different core elements: governance, management, quality of coaching, community engagement and volunteer development. It has three levels: Foundation Club Mark, Club Mark and Advanced Club Mark.
For more information on how your local club can apply for Club Mark, please contact Gavin Nelson, the Irish FA Foundation's Club and Community Development Officer, at gavin.nelson@irishfa.com.