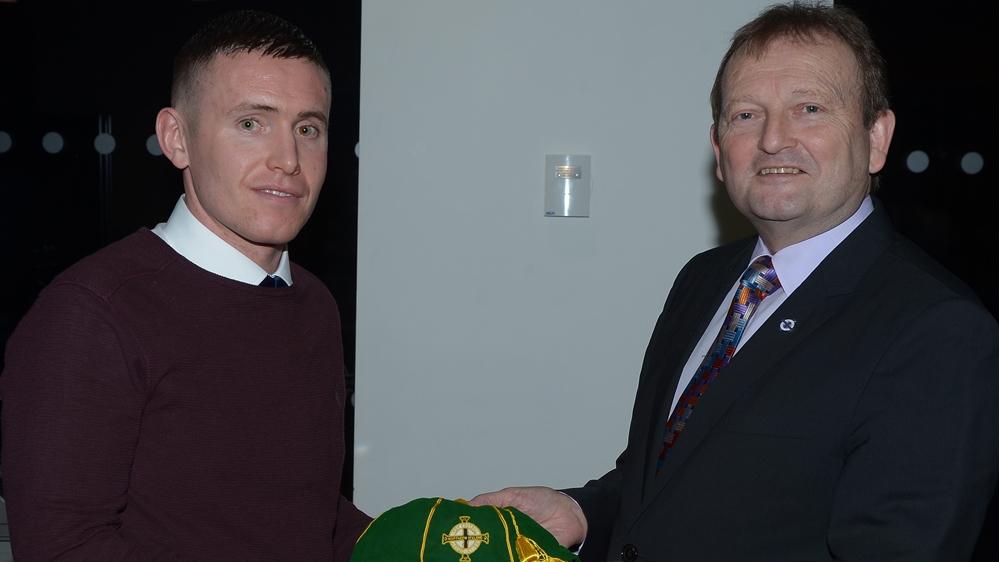 Northern Ireland Junior international team boss Harry McConkey has presented caps to members of the squad who won the Umbro Quadrangular Tournament in Scotland.
The Junior international side's Regions Cup commitments last year meant the caps presentation was delayed several times.
But the 20-strong squad who secured the Umbro trophy in Glasgow at the tail end of 2017 have now received recognition from the Irish Football Association at an event held in the National Football Stadium at Windsor Park.
Northern Ireland secured the Umbro trophy thanks to a 2-0 win over the Republic of Ireland, a 4-0 victory against Isle of Man and a 2-2 draw with hosts Scotland.
Northern Ireland Junior international team boss McConkey had waited 12 years to get his hands on the trophy. He said afterwards: "All 20 players were exceptional in the tournament. This was a group of very talented players who collectively played with great character, perseverance and commitment. 
"We won the Umbro Quadrangular Junior International Tournament due to real genuine togetherness, both on and off the pitch."
As a result of other international competitions being organised for 2019 the Umbro tournament is not due to be staged again until next year.
The Northern Ireland Junior international players receiving caps were: William Armstrong (captain), Jordan Williamson, Paul Wells, Scott McMillan, Dean Curry, Ryan Deans, Jordan Gibson, Warner Mullen, Ryan Campbell, Ricky Thompson, Ryan Morrow, Stephen Curry, Dale Montgomery, Dylan Wilson, Aaron Walsh, Ryan Arthur, Adam Gray, Stewart Nixon, Mark Kelly and Craig Harris.