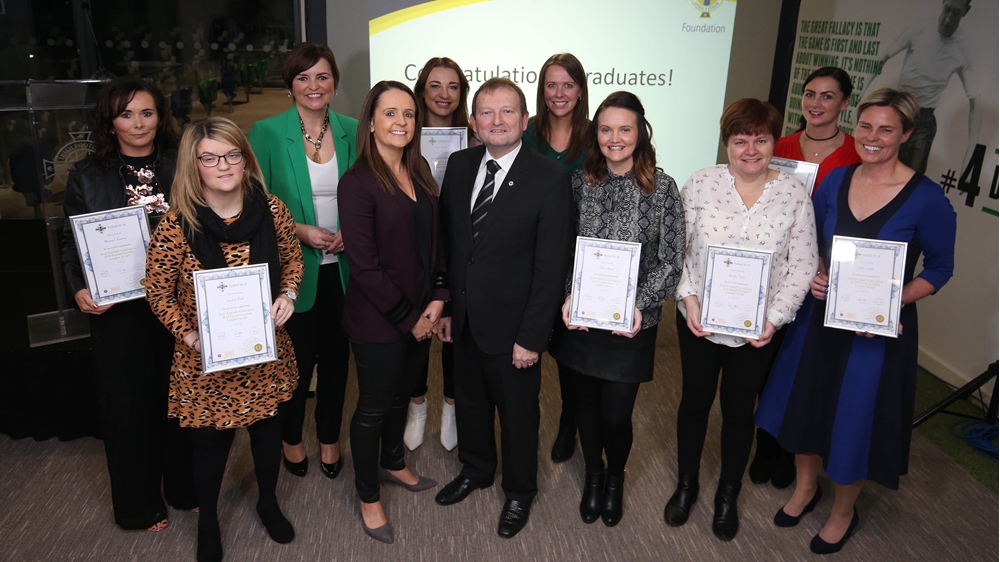 Participants on the Irish Football Association's latest Female Football Leaders Programme have made the grade.
The George Best Lounge at the National Football Stadium at Windsor Park was the venue for their graduation ceremony where they were presented with certificates for completing the course.
Since its launch in 2013 the Female Football Leaders Programme has been a great success with more than 60 graduates to date. And 13 participants graduated from the most recent programme. 
Gail Redmond of the Irish FA Foundation said: "If you are passionate about football or hold a leadership position in your team or club this course is for you. It will prepare you to have the skills necessary to help you on your journey to becoming an active leader in girls' and women's football."
The latest graduates are: Paige Floyd, Karen Moore, Anna Daly, Stacey Hepburn, Clare McGuinness, Carmel Fyfe, Sarah Winslow, Patricia Lavery, Mairead Kearney, Lyndsey Booth, Rebecca Culbertson, Jennifer Taylor and Julie Corbett.
The guest speaker at the event was former Northern Ireland captain Sara Booth, who was awarded an MBE in the Queen's Birthday Honours List back in June for services to women's football.
Sara, who represented Northern Ireland for 15 years as a player, was Tournament Director for the UEFA Women's Under-19 Championship staged in Northern Ireland in August 2017.
Prior to that role she worked as the Irish FA Women's Domestic Football Manager for just over a decade. And she is now Head of Women's Football Competitions at world football's governing body FIFA.
The main aims of theFemale Football Leaders Programme are to develop and extend the skills, knowledge and network of women in leadership and in decision-making roles within football with the intention of increasing the confidence, competence and capacity of women in a range of effective leadership behaviours.
It is also an aim of the programme to proactively support women to apply for and progress in leadership roles within football clubs or on governing body committees and boards.
Broadcaster Denise Watson was the MC at the graduation ceremony.