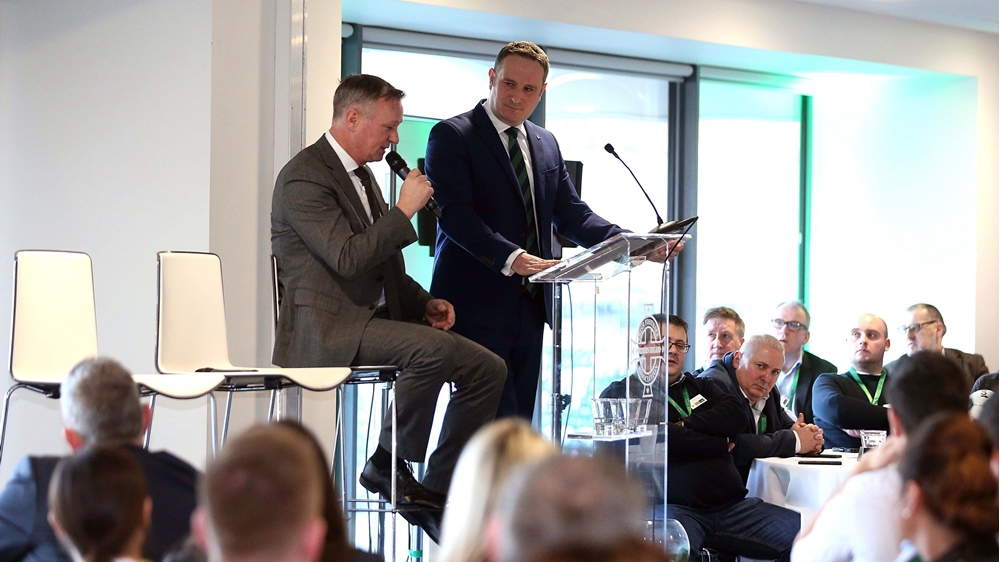 More than 180 members of the business community attended a Business Breakfast at the National Football Stadium at Windsor Park.
And the verdict from those attending was that it was a winner all the way.
Northern Ireland manager Michael O'Neill was the special guest at the event. And he was joined by legendary player Gerry Armstrong during a Q&A.
The audience also heard from Clare McAllister, Electric Ireland's Northern Ireland Residential Manager, and Dan Killen, Hospitality and Ticketing Customer Relations Manager with golf governing body The R&A, as well as Simon Fitzpatrick, the Irish Football Association's Sales and Marketing Director.
Ian Roddy from leasing company Fleet Consult said he enjoyed the event, which also showcased two of the hospitality lounges at the stadium.
He pointed out: "Michael O'Neill is very open and honest and he gave some great answers. The event was very well run. This place is Northern Ireland's best kept secret. I would recommend it as a business venue and as an event space."
Junior Nelson, who works for global electronics giant Philips, said: "I thoroughly enjoyed it. It's a great venue which has very good facilities. We held a Christmas lunch here and we will definitely be back."
Nicola Woods, of flexible workspace company Glandore, felt the event was "a great networking opportunity".
It was the first time she had attended a business event at the stadium. "It's a great space and the view is great. I am into sport so it was great to hear Michael O'Neill's views," she added.
Steven Dawson of mailing solutions company Forth said the business breakfast had been "very informative". "I think the stadium is a great setting to bring business contacts to," he added.
Michael Hunt, MD of recruitment firm Chapterhouse, was attending a business event at the stadium for the first time.
He said: "It was really enjoyable, and I would definitely consider the stadium for corporate hospitality. I am impressed with the facilities. The whole thing felt cool and I would be happy to bring clients here in the future."
Victoria Brown of Danske Bank said the stadium was "an impressive backdrop" for what she felt was an enjoyable event. "I would definitely consider using the stadium for an event going forward," she added.
Michael O'Neill told the audience about his days in financial services between the end of his playing career and the start of his managerial career.
He said working for the likes of Ernst & Young had brought him into contact with people from around the world and had taught him valuable lessons in how to manage people in particular. 
During the Q&A he revealed players are more professional these days than they were during his playing days and know how to look after themselves better in terms of diet and fitness levels. He also said self-discipline and discipline on the pitch are key to having a successful team.
Gerry Armstrong said Michael's managerial style had given the players more confidence, while performances in recent years had also given Northern Ireland fans more confidence in the team.
Clare McAllister of Electric Ireland said her company's sponsorship deal with the Irish FA - it supports women's and girls' football programmes - had helped to substantially raise its profile in Northern Ireland.
Leading specialist event caterer Sodexo Prestige provides corporate hospitality packages at the National Football Stadium and will be delivering hospitality packages at The 148thOpen in Portrush this summer. 
Dan Killen of The R&A said he was impressed by the packages provided by Sodexo at the stadium and that he was looking forward to partnering with them in Portrush.
Simon Fitzpatrick of the Irish FA told the audience there were sponsorship opportunities and commercial opportunities available as the association strives to grow participation levels here and grow the Northern Ireland fan base. He said it also wanted to have a thriving stadium business.