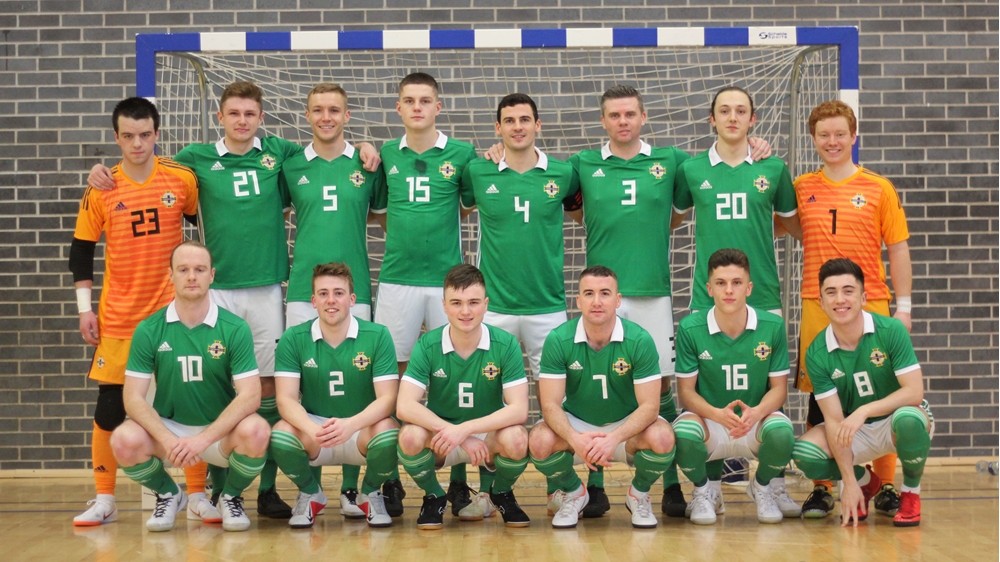 Northern Ireland's senior men's futsal team are preparing to face Finland in their first ever FIFA Futsal World Cup qualifier.
The historic game is due to take place in Moldova tomorrow (Wednesday 30 January) – with a 2pm start UK time.
It will be the first of three matches for Northern Ireland this week in a mini tournament hosted by the Moldovans.
Their second game is against the host country at 4.30pm UK time on Thursday (31 January), while they will complete their Group H preliminary round campaign against Wales on Saturday (2 February) at 1.30pm.
Northern Ireland head coach Jonathan Michael reckons the history-making match against the Finns will be the toughest encounter of the three games.
He pointed out: "They (Finland) are ranked in the top 30 in the world. We know they'll be a good side and we'll learn a lot from that experience. We want to test ourselves against quality opposition."
Michael is expecting to be greeted by a noisy home crowd when they come up against the Moldovans, but he believes his team could do well against the hosts.
Northern Ireland defeated Wales 2-0 in the Futsal Home Nations Championship back in December – and the head coach is hoping his side can deliver a similar result once again.
He pointed out: "We're under no illusions that they'll want revenge for that. The match against the Welsh will be our final game of the qualifiers and we hope to go into that one with everything to play for."
The top two teams in eight preliminary round groups will qualify for the main round of European qualification. The Group H winners will be in a group that already features Azerbaijan and Slovakia, while the Group H runners-up will be in a group with Spain and Poland.
Teams competing in Europe's main round (22 to 27 October) will be aiming to go through to an elite round at the end of January 2020.
Four elite round winners – plus two winners of play-offs involving elite round runners-up – will then go through to the next Futsal World Cup (the ninth edition of the tournament), which is due to take place in Lithuania in September/October 2020. Argentina are the reigning world champions.
Northern Ireland senior men's futsal squad:
Goalkeepers - Philip Irvine (World United Futsal Club), Matthew McErlain (Belfast United Futsal Club);
Defenders - Adam Barr (captain) (FC Salisbury United), Scott Gunn (Newcastle Futsal Club), Ciaran Donaghy (Belfast United Futsal Club), John Gibson (Banbridge Town Futsal Club), James Gould (Banbridge Town Futsal Club);
Wingers - Jack Magee (Belfast United Futsal Club), Jordan Wilson (Banbridge Town Futsal Club), Danny Stapleton (Manchester Futsal Club);
Forwards - Darius Roohi (Sparta Belfast Futsal Club), Conor Glenholmes (Wattcell Futsal Club), Connor Millar (FC Salisbury United).