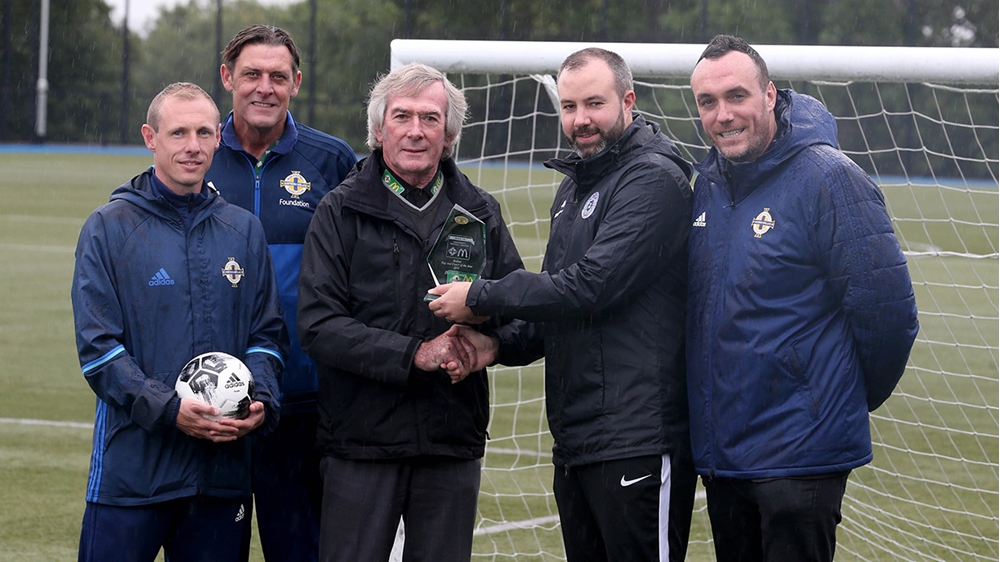 Clubs and individuals from right across Northern Ireland have been honoured with 
McDonald's IFA Regional Awards for their contribution to local grassroots football.
The awards, now in their 17th year, recognise the incredible work and commitment of football clubs and volunteers within grassroots football in Northern Ireland.
The voting for the 2018 Grassroots Peoples Award is still open and the nominees have come down to Davy McQuigg and Elaine Junk. You can register your vote before October 30 by CLICKING HERE. 
The worthy regional winners will now go forward to the national awards ceremony which is set to take place on Monday the 12th of November at City Hall in Belfast. More than 180 guests will be there to celebrate and recognise the highest ever number of nominations across six regional and national award categories.
McDonald's, who are now the longest standing supporter of football in the UK have helped thousands of clubs in Northern Ireland, England, Scotland and Wales to improve facilities and structures. The annual awards provide a fitting platform for the tireless efforts of the unsung heroes of the game at a grassroots level.
Special guest on the tour (which visited several clubs across the region) was McDonald's NI football ambassador Pat Jennings, who helped celebrate the stars of grassroots football in Northern Ireland.
Speaking at the tour, Northern Ireland's record cap holder Pat Jennings said:
"Each year I look forward to celebrating the dedicated and hardworking football volunteers across Northern Ireland. Grassroots is such an essential part of football, without the dedication and hard work from volunteers, young players wouldn't be able to experience the game as they do now.
"Well done to all those that won regional awards and for all those hundreds of others who do so much to allow all children the opportunity to play football in a fun and engaging environment. Good luck for the nationals coming up in November, and a huge thank you to everyone who voted for these worthy clubs and individuals." 
The following clubs received regional accreditation awards:
Ballysillan Swifts in North Belfast

Comber Rec Ladies

Oxford Sunnyside in Lurgan

Dungiven Celtic

Mountjoy United in Omagh
Regional Volunteer awards were presented to:
Carl Toner from Newhill FC, Belfast

Brian Byrne

 from St Mary's FC

Collette Young 

NIWFA

Phil McKinney

 from Lurgan Town FC

Karen Moore

 from Harry Gregg Foundation

Gary Lavery

 from Riverdale FC
Regional Coach awards were presented to:
David Pimley

 from St Malachy's OB FC

Adrian Stewart

 from Carrick Rangers FC

Corey Wilson, Braniel FC, Belfast

Jason Aiken

 Killen Rangers Ladies FC

Chris Brady 

Magherafelt Sky Blues FC
Winners Images
Carl Toner, Newhill FC, who won a Regional Volunteer Award as part of the 2018 McDonald's IFA Grassroots Awards. Pictured are Pat Jennings, Michael Boyd, Carl Toner and Malcolm Roberts. (13)

David Pimley, St.Malachy's OB FC who won a Regional Volunteer Award as part of the 2018 McDonald's IFA Grassroots Awards. Pictured are Pat Jennings, Michael Boyd, David Pimley and Malcolm Roberts. (11)

Ballysillan FC who won an Accredited Club Award as part of the 2018 McDonald's IFA Grassroots Awards. Pictured are club members along with Pat Jennings, Michael Boyd and Malcolm Roberts from the IFA. (07)

Corey Wilson, Braniel FC who won a Regional Volunteer Award as part of the 2018 McDonald's IFA Grassroots Awards. Pictured are Pat Jennings, Corey and representatives from the local McDonald's store. (04)

Comber rec Ladies who won an Accredited Club Award as part of the 2018 McDonald's IFA Grassroots Awards. Pictured are Pat Jennings, various club members and representatives from the local McDonald's store. (01)

Pat Jennings, McDonald's NI Football Ambassador, 

Paul Beattie, Assistant Manager, McDonald's Sprucefield,

 Brian Byrne, St Mary's FC

Pat Jennings, McDonald's NI Football Ambassador, 

Kenneth Duncan IFA,

 Collette Young NIWFA, 

Rita Frost, McDonald's

Pat Jennings, McDonald's NI Football Ambassador, 

Chris Erskine IFA, 

Chris Colhoun Mountjoy United, 

James Burke Mountjoy United, 

Thomas Burke Mountjoy United, 

Richard Donnell Mountjoy United, 

Shay Donnell Mountjoy United

Pat Jennings, McDonald's NI Football Ambassador, 

Malcolm Roberts IFA, 

Joe Doherty IFA, 

Terence McMacken, Secretary Dungiven Celtic FC, 

James Doran, Youth Officer, Dungiven Celtic FC, 

Seamus Harkin, Chairman Dungiven Celtic FC
McDonald's Regional Grassroots Tour Winners