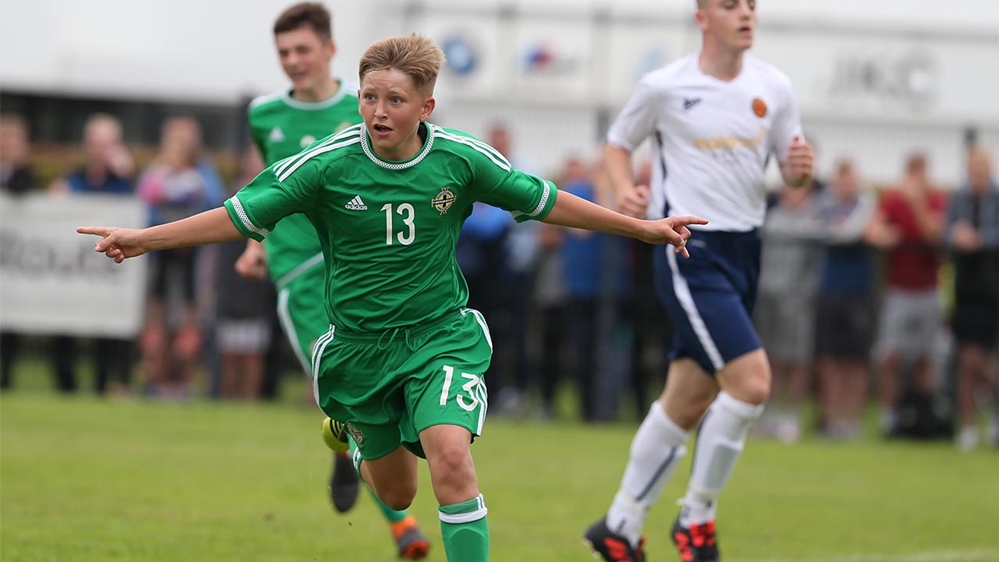 JD Club NI's Under-15s registered an impressive win against Celtic's U15 academy team in Scotland.
Although the final score was 2-1 to the Northern Ireland boys, Declan Devine's side controlled the game from start to finish.
"It was a fully deserved win. We dominated the game and missed numerous chances. Everyone played really well," said Devine afterwards. 
The challenge match at Celtic's training complex at Lennoxtown was played across three 30-minute periods.
Celtic took the lead in the third period against the run of play, but their advantage was shortlived as Newell Academy player Oisin Gallagher smashed home a volley to draw JD Club NI level.
And then Callum Marshall, one of seven Glentoran players in the U15 panel, scored what proved to be a deserved winner. He cleverly lobbed the advancing keeper from just outside the box to make it 2-1.
Afterwards Devine was full of praise for his squad. He said goalkeeper Jake Wallace and  Michael Forbes, Josh Roney and Harry Wilson were stand-out performers for the team, however he stressed that all the players had played well.
The coach also applauded Foyle Harps player Corry McLaughlin, who was making his first start for a team from JD Club NI, the Irish FA's elite player development programme. He said McLaughlin had "played really well".
It's the second time JD Club NI have faced Celtic this year. Back in May the previous Club NI U15 squad lost 2-1 to a Celtic team made up of U16s and U15s.
Devine added: "Celtic were very impressed with our boys and our standard of play."
JD Club NI U15s squad: Jake Wallace (Glentoran), Alex Henderson (Coleraine), Michael Forbes (Dungannon United Youth), Josh Roney (Portadown), Harry Wilson (Glentoran), Jamie McDonnell (Glentoran), Oisin Gallagher (Newell Academy), Dylan Sloan (Linfield), Corry McLaughlin (Foyle Harps), Patrick Kelly (Coleraine), Conor Falls (Glentoran), Jack Montgomery (Linfield), Callum Marshall, Aaron Wightman and Elliott Wood (all Glentoran), Emmet Magee (Glenavon).
Image: Callum Marshall popped up with the winner for JD Club NI U15s against Celtic U15s.