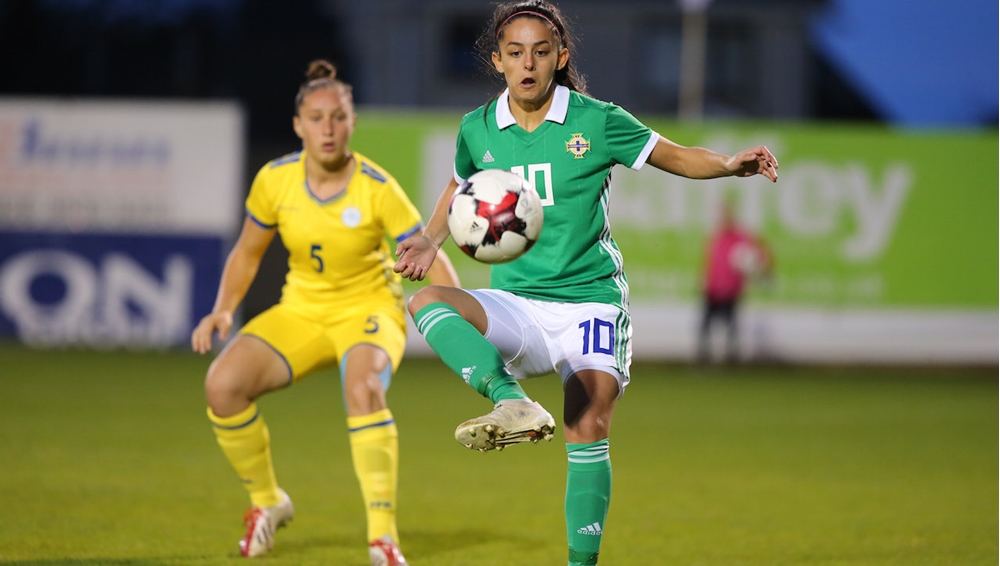 Northern Ireland looked to continue their winning start to their UEFA Women's Under 19 Qualifying campaign as they took on Kosovo at Shamrock Park, but will feel disappointed with a 0-0 draw.
Alfie Wylie's side had the best of the chances in a match that they dominated from start to finish, but were unable to grab a winning goal.
The girls in green looked the more dangerous side throughout the first half but were unfortunately unable to create any clear cut chances. The Northern Ireland rearguard dealt with any Kosovo attacks with no real threat to Lauren Currie's goal.
In the opening stages of the game Northern Ireland winger Rebecca McKenna looked to stamp her authority on the game and was a constant threat down the right hand side.
On 14 minutes she beat the Kosovo left-back following some clever link-up play and delivered a dangerous cross into the box, but unfortunately Louise McDaniel or Kaia Deane couldn't get on the end of it.
The best chance of the half came mid-way through. A low free-kick from 25 yards out which Bell put low past Florentina Kolgeci's left-hand post.
Northern Ireland looked to step it up in the second half as Wylie made one change at the break. Left-back Niamh Ruddy was replaced by Jenna McKearney in the Northern Ireland defence.
Northern Ireland's Alexandra Colligan looked dangerous on the left wing as she intercepted a loose Kosovo pass on the half-way line and went on a mazy run towards the Kosovo penalty area. She was brought down on the edge of the area, but unfortunately Bell's free kick went well over the bar.
The first clear cut chance of the match came on 68 minutes and it fell to Colligan. Northern Ireland did well to work the ball wide to McKenna on the right wing who delivered a great ball into the box to an unmarked Colligan at the back post who couldn't get her first time shot on target. 
Kosovo were penned deep inside their own half for most of the match and looked to go long to striker Flaka Aslanaj as an outlet. Their first chance of the game came as a long ball was played in behind the Northern Ireland defence to Aslanj with Currie in the Northern Ireland goal racing outside her box to clear the danger.
Alfie Wylie's side battled hard to the end and will feel aggrieved not to be awarded a penalty two minutes from time as Collighan raced into the box and was brought down by two Kosovo defenders.
The best chance of the game came on 90 minutes as Bell let fly from distance, beating the keeper but unfortunately not the crossbar. The ball rebounded towards McDaniel who couldn't get on the end of it. A great strike, which deserved to win her side all three points at the death.
There was still time for one final Kosovo attack, as Currie was called into action late on. The young keeper pulled off a fantastic diving save as Aslanaj looked to have won it with a low effort.
A draw leaves Northern Ireland second in the group with only Germany left to play on Monday night at Shamrock Park. The top two teams will advance to the Elite Round.
Northern Ireland: Lauren Currie, Yasmin White, Niamh Ruddy, Abbie Magee, Kelsie Burrows, Caitlyn Hamilton, Rebecca McKenna, Megan Bell (captain), Louise McDaniel, Alexandra Collighan, Kaia Deane.
Substitutes: (used) Jenna McKearney, Kaitlyn Canavan;
(not used) Bronagh McGuinness, Ebony Leckey, Leah McDaid, Anna McCleary, Leah McGonagle, Zoe Kilpatrick, Khloe Cooper. 
Kosovo: Florentina Kolgeci, Bleona Zhabari, Diellza Hyseni, Valentina Ternava, Gjenifer Pjetri, Erjona Emerllahu, Leonora Ejupi, Verona Berisha (captain), Kaltrina Biqkaj, Fleta Musaj, Flaka Aslanaj.
Substitutes: (used) Jehona Shala, Erda Podvorica, Albulena Fejza;
(not used) Rrezona Ramadani, Anjeza Rexhepi, Argnesa Rexhepi, Liridona Leka.