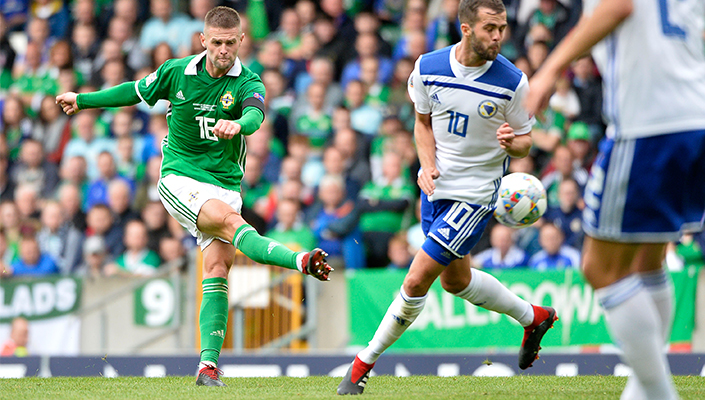 Northern Ireland midfielder Oliver Norwood has revealed the squad took encouragement from the level of performance in their games against Bosnia & Herzegovina and Israel last month.
And he has promised there will be more "playing on the front foot" when Michael O'Neill's side face Austria and the Bosnians once again on Friday and Monday respectively.
He said their opening fixture in the Nations League - a 2-1 defeat at home to Bosnia & Herzegovina - ultimately ended in disappointment, however the players and manager were pleased with the overall level of performance in that game and in the friendly against Israel (3-0 win) a few days later. 
"We played on the front foot and we pressed high up the pitch. We put a marker down and we are going to have to reach those heights again," he said.
The Sheffield United midfielder pointed out that in the game against Bosnia they started fast and took the initiative and they will be aiming to do that once again in the two upcoming games.
"The squad is in a good place, in a positive place. We have a good group of players with good legs and good physicality," he said.
Norwood also revealed everyone in the Northern Ireland camp is "relaxed" ahead of the two Nations League tussles, adding that they had taken a lot of positives from the level of performance in their last two games.
"We want to play on the front foot and try new things. We are trying to take it to the next level," he added.