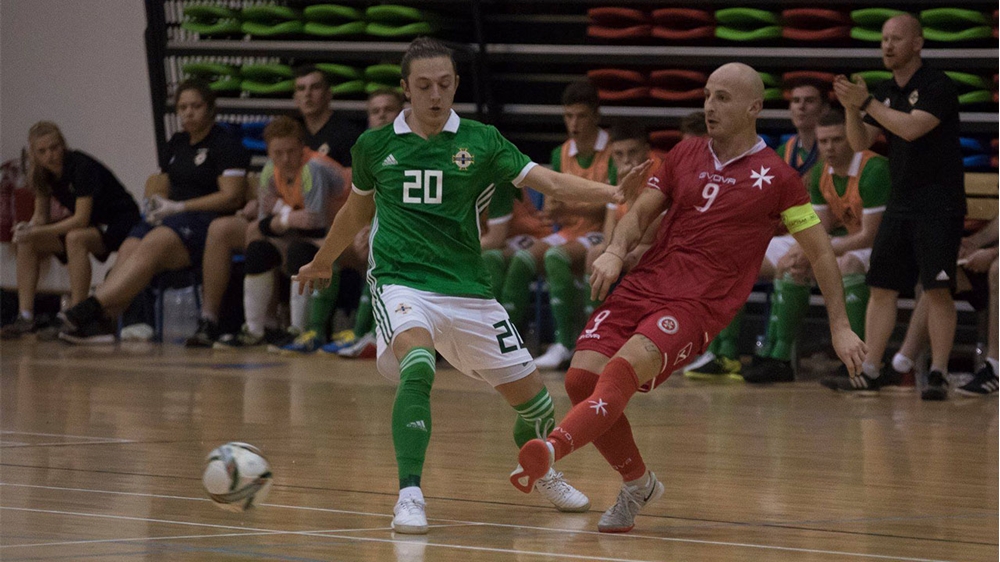 The Northern Ireland Senior Men's Futsal squad won one and lost one as the squad took part in two international friendlies against Malta over the weekend.
The games were used by head coach Jonathan Michael as preparation for the upcoming Home Nations Championships to be held in Newry at the end of November.
"This weekend has been great preparation for us as a squad as we look forward to a busy schedule of International Futsal over the next four months," Michael said. 
"We will have the Home Nations Championships in November, Malta will travel to us for two games in January, and the squad will then compete in World Cup qualifying matches concluding in February."
Northern Ireland secured a 2-1 victory in a closely contested game against the Maltese on Friday.
Skipper Adam Barr's 12th-minute strike found the top corner to give the visitors the lead but the hosts drew level in the second half when Lee Grech netted his first international goal after some neat build-up play between him and Azzopardi.
Northern Ireland hit back when Craig Taylor's left-foot drive from 20 metres nestled in the bottom corner of Stephen Vella's goal.
In Saturday evening's match Northern Ireland carved out early chances through Darius Roohi, Jonathan Pierce and John Gibson but Malta proved how punishing international Futsal can be when Andy Mangion capitalised on an individual error to take an 11th-minute lead.
Just a minute later Northern Ireland found themselves two down after high pressure from Mangion on Alex Lalor led to a tap-in for Rennie Tanti. 
Malta's third arrived when they pounced with a counter-attack which resulted in Matthew Attard slotting a one-on-one chance past Northern Ireland keeper Matthew McErlain.
In the second half Conor Glenholmes and Taylor spurned good opportunities and Malta made them pay as Andy Mangion netted number four when, with his back to goal, he rolled Scott Gunn before firing the ball into the left-hand corner. 
Northern Ireland later landed a deserved goal when Ciaran Donaghy converted at the back post after strong work from Jack Magee on the left. 
Reflecting on the performances over the two games in Malta, Michael said: "On Friday night we demonstrated that our game management is improving, and we ground out the result while not playing to the best of our ability. We played extremely well on Saturday evening and we were disappointed about not converting the numerous chances we created.  
"It is pleasing for the coaching staff and the players that we will have another opportunity to play Malta in the New Year and make improvements from the lessons learned this weekend. We have benefited greatly from taking these two games and we will continue to work hard in training to be at our best for the Home Nations in Newry at the end of November."
Northern Ireland: Matthew McErlain, Philip Irvine, Adam Barr, Scott Gunn, Ciaran Donaghy, John Gibson, Alex Lalor, Jack Magee, Craig Taylor, Danny Stapleton, Jonathan Pierce, Jordan Wilson, Conor Glenholmes, Darius Roohi.
Malta: Stephen Vella, Clint Mifsud, Mark Zammit, Melvin Borg, Carl Azzopardi, Aidan Micallef, Andrè Ciancio, Dylan Musu, Lee Grech, Giancarlo Sammut, Matthew Attard, Andy Mangion, Rennie Tanti, Kurt Bartolo.