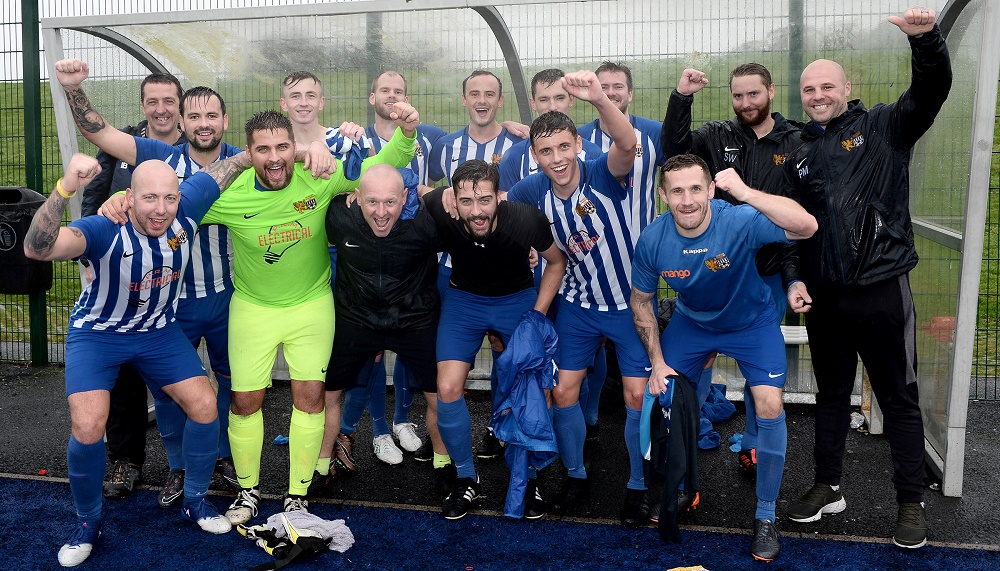 The rain was incessant as Bangor Rangers beat Derryhirk by the odd goal in five in the fonaCAB Junior Cup 'tie of the round' at the Aurora Leisure Centre.
Bangor settled much quicker than their Mid-Ulster opponents who arrived with expectancy rather than hope as they had been unbeaten in the league this season.
On four minutes the ball fell to Jordan Baxter in the box and he unleashed a daisy cutter towards goal which Derryhirk keeper Tiarnan McKavangh will feel he should have gathered only to allow the ball to squirm out of his hands into the net.
Derryhirk stung by this early reversal responded and Marcel Salatka in the home goal was forced to save low down at his near post a minute later when O'Neill just failed to make contact with a deep cross from Michael O'Hehir much to Bangor's relief.
The visitors had now settled much better and O'Hehir was conducting a master class in midfield. On the half hour mark the effort was rewarded following good work down the left and the ball found its way to the far corner of the box for the onrushing Johnny Harbinson to ram home the equaliser.
On 38 minutes Bangor regained the lead rather fortuitously as the inswinging corner skipped up and Andy Reay knocked the ball over the line off his knee cap.
Two minutes later Paul Goodwin in the home defence breathed a sigh of relief when his attempted clearance crashed off the home crossbar.
The intensity waned in the second period as the rain continued to fall heavily, which probably had an effect of dragging the energy levels from the players bodies.
On 52 minutes Derryhirk got a free kick in the centre circle when Goodwin was lucky not to receive his marching orders. The kick was rolled out to Harbinson forty yards from goal who promptly lashed in a left footed shot that flew over Salatka's head into the far corner, for his second goal.
We now had a real contest and no quarter was given. Tackle for tackle the game ebbed and flowed.
No efforts of note were recorded in next thirty minutes, and just when it looked like the game was heading for extra time, Bangor worked the ball well down the left before crossing the ball into the visitors box.
Baxter swung on the ball and it crashed off the crossbar. The ball rebounded kindly into the path of 'man of the match' Reay who rammed the ball home for his second of the match, and what proved to be the winning goal.
Derryhirk threw on two substitutes to try and save the match, and despite a couple of scares Bangor held on for a hard worked victory over a very gallant visiting Derryhirk team.