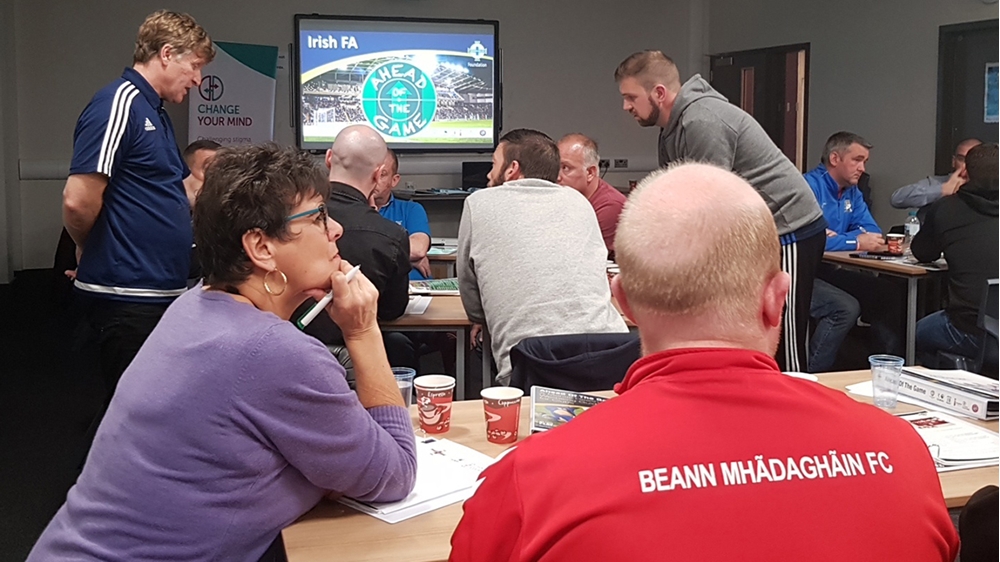 Workshops in Belfast and Newry kicked off a series of events and activities aimed at promoting mental health awareness among clubs at all levels across Northern Ireland.
The workshops were staged by the Irish FA Foundation as part of a drive to promote positive mental health through its UEFA-supported programme Ahead Of The Game. 
At Newry Leisure Centre clubs from as far afield as Ballynahinch to local Danske Bank Premiership club Newry City undertook awareness training and activities.
The Newry workshop, staged on World Mental Health Awareness Day, was aimed at addressing the lack of understanding of mental health challenges and looked at how to advise and signpost those who may need help.
In Belfast the workshop was staged at Girdwood Community Hub. It was supported by the Stadium Community Benefits Initiative, which is backed by Belfast City Council and the Irish FA Foundation. 
At Girdwood coaches and volunteers from across the Greater Belfast area turned out to represent their clubs.
Case studies focused on clubs such as Lower Shankill and 22nd Old Boys who explained what they already provide to help the community regarding mental health.
The theme of this year's WMHAD was 'Young People And Mental Health In A Changing World' and the various clubs participated in discussion groups and tasks that provoked a lot of relevant sharing of information on how clubs can have an impact on the community and on mental health generally, including young people's mental health.
The event was also supported by Royal College of Psychiatrists, Students Working Overseas Trust (SWOT), Mind Matters, Tackling Awareness Of Mental Health Issues (TAMHI) and the Northern Ireland Commissioner For Children And Young People.
Other fun activities on the day for children and adults included dance classes, inflatables, a fire engine and mental health games.
For more information on the Irish FA Foundation Mental Health and Wellbeing Programme for clubs contact Gavin.Nelson@IrishFA.com.