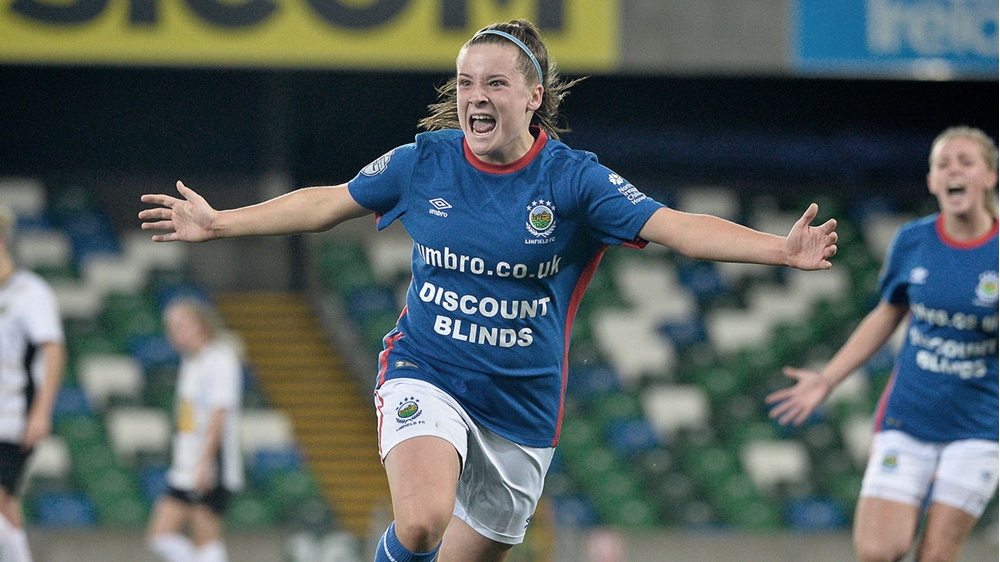 National Women's Manager Alfie Wylie is confident a mixture of experience and new faces will see Northern Ireland Women's U19s move a step closer to booking a place at next year's UEFA Women's U19 Championship finals.
A Women's U19 Euros qualifying round is being staged in three venues across Northern Ireland from 2-8 October.
And Wylie believes his squad can do well when they come up against Germany, Estonia and Kosovo in the mini tournament.
First up for Northern Ireland is a game against Estonia at Shamrock Park in Portadown tomorrow (2 October,1900 start) while the Group 9 qualifying round in Northern Ireland will kick off with Germany against Kosovo at Stangmore Park in Dungannon at 1400 tomorrow.
The WU19s manager pointed out: "The squad features an exciting blend of players, with every NIFL Women's Premiership club being represented along with players from clubs in Scotland, England and even Canada." 
Five of Wylie's squad were involved in last year's WU19 finals hosted in Northern Ireland: Megan Bell, Yasmin White, Abbie Magee, Emily Wilson and Louise McDaniel, who last summer became the first female Northern Ireland player to score at a major finals.
Bell, McDaniel, White and Wilson have all since made their debuts for the senior international side – and another squad member, Rebecca McKenna, has also played for the seniors.
The WU19s boss is confident their experience coupled with the introduction of several new faces, including Kaia Deane from Canada, Ebony Leckey from Sion Swifts Ladies, Kaitlyn Canavan (Motherwell) and Leah McDaid (Derry City Ladies), will see Northern Ireland through.
The top two sides in every section - plus the two third-placed teams with the best records against the top two in their group - will go through to the elite round, the draw for which is on 23 November. Seven countries will eventually qualify to join hosts Scotland in the finals from 16 to 28 July next year.
Wylie added: "Germany are the favourites to qualify from the group as winners. The target for us therefore will be to beat Estonia and Kosovo to get second place."
Matchday two sees the Germans take on Estonia at Stangmore Park on 5 October (1400), while Northern Ireland will face Kosovo at Shamrock Park later the same day (1900).
The mini tournament will draw to a close with Northern Ireland taking on Germany at Shamrock Park on Monday 8 October (1300) and Kosovo battling it out with Estonia at Coleraine Showgrounds on 8 October (1300).
Northern Ireland Women's U19 squad for WU19 Euros qualifying round:
Goalkeepers - Lauren Currie (Glentoran Women), Anna McCleary (Cliftonville Ladies);
Defenders - Yasmin White (Glentoran Women), Caitlyn Hamilton (Crusaders Strikers), Bronagh McGuinness (Derry City Ladies), Kelsie Burrows (Linfield Ladies), Khloe Cooper (Bradford City Women), Jenna McKearney (Glentoran Women), Zoe Kilpatrick (Linfield Ladies);
Midfielders - Rebecca McKenna (Linfield Ladies), Megan Bell (Linfield Ladies), Alexandra Collighan (Chichester City Ladies), Abbie Magee (Linfield Ladies), Niamh Ruddy (Portadown Ladies), Leah McDaid (Derry City Ladies);
Forwards - Louise McDaniel (Linfield Ladies), Emily Wilson (Crusaders Strikers), Kaitlyn Canavan (Motherwell), Ebony Leckey (Sion Swifts Ladies), Kaia Deane (Northwest United, Canada).
Image: Megan Bell, fresh from winning the Danske Bank Women's Premiership crown with Linfield Ladies at the weekend, will be a key member of Alfie Wylie's Women's U19s squad over the next week or so.