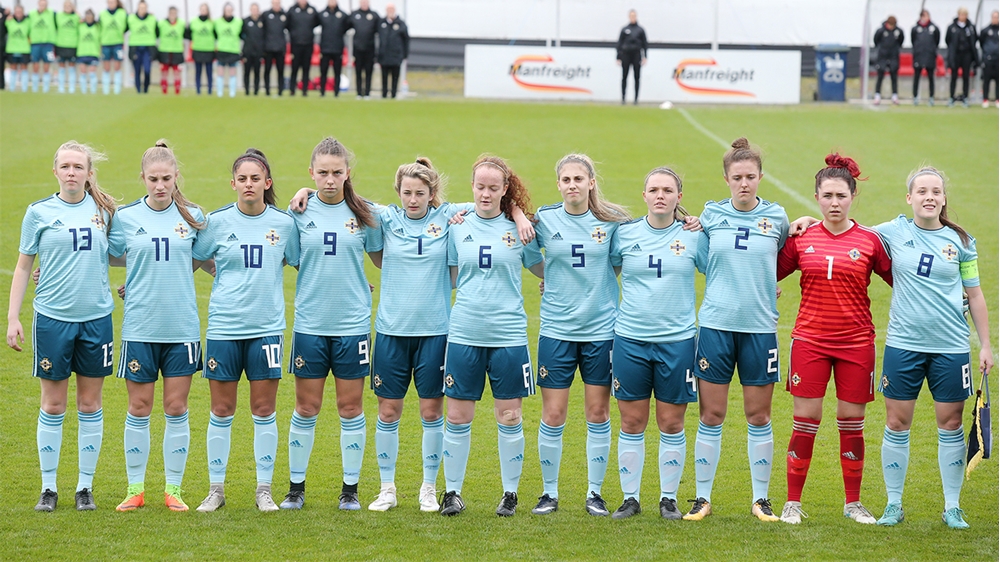 Northern Ireland Women's Under-19s were ruthlessly swept aside by Germany in a WU19 Euros qualifier in Portadown this afternoon.
However, despite the heavy 7-0 defeat, Northern Ireland progressed to the next stage of qualifying alongside the Germans on goal difference.
Northern Ireland, who defeated Estonia 7-1 in their first game and then drew 0-0 with Kosovo, took second spot in the group thanks to a better goal difference: a single goal. Kosovo, who had lost 6-0 to Germany in their first game before drawing with Northern Ireland, could only muster a 5-1 win against the Estonians at Coleraine Showgrounds this afternoon.
Germany had scored 27 goals in their previous two games in the UEFA mini qualifying tournament hosted in Northern Ireland over the past week, so it was no surprise they were on the front foot from the start in their third and final game. 
Northern Ireland keeper Lauren Currie made a fine stop with her feet after three minutes in the Group 9 qualifying round match at Shamrock Park, then Germany attacker Paulina Krumbiegel headed against the bar.
In the eighth minute Krumbiegel did hit the target, however. She opened the scoring when she broke clear down the left and smashed the ball into the roof of the net. 
Alfie Wylie's side, who were without the injured Niamh Ruddy and Kaia Deane, had their first attempt on 11 minutes when Kelsie Burrows got on the end of a Megan Bell corner, however her header was straight at German keeper Anneke Borbe. 
The physically stronger Germans increased their lead on 15 minutes when Sjoeke Nusken's low drive nestled in the bottom corner. Two minutes later it was 3-0, Marie Muller netting from close range.
In the 25th minute Bell made a good run from deep but her strike from distance was well off target. 
On the half-hour mark Krumbiegel clipped a free-kick onto the bar, but Germany extended their lead a minute later when Nusken bundled the ball over the line during a goalmouth melee.
Muller then smashed an effort against the post for Germany as the one-way traffic continued.
Just before the interval Currie made a great save, tipping a stinging low drive onto the post.
Germany, who had defeated Kosovo 6-0 and Estonia 21-0 in their previous two games, made four substitutions at half-time but continued to push forward and Krumbiegel quickly grabbed her second of the game with a close range finish. 
Currie produced another great stop at Germany sub Chmielinski's feet before Krumbiegel, on a hat-trick, just failed to connect with a powerful delivery from Meryen Cennet Cal. Moments later substitute Cal smashed the ball against the crossbar.
Germany continued to pepper the Northern Ireland goal, however their strikes were mostly off target, while Currie also neatly handled a succession of crosses. 
And the defence and Currie stood firm until the closing stages when Muller got her second of the game with an angled drive to make it 6-0 to Germany and Nusken completed her hat-trick right at the death with a neat finish.
But Northern Ireland had done enough to make it through to the elite round, the draw for which is on 23 November. Seven countries will eventually qualify to join hosts Scotland in the finals from 16 to 28 July next year. 
Northern Ireland: Lauren Currie, Yasmin White, Abbie Magee, Kelsie Burrows, Caitlyn Hamilton, Rebecca McKenna, Megan Bell (captain), Leah McGonagle, Louise McDaniel, Alexandra Collighan, Jenna McKearney. Substitutes (used): Ebony Leckey, Khloe Cooper; (not used) Anna McCleary, Zoe Kilpatrick, Bronagh McGuinness, Kaitlyn Canavan, Leah McDaid.
Germany: Anneke Borbe, Lara Schmidt (captain), Lisa Schoppl, Sydney Lohmann, Melissa Kossler, Nicole Anyomi, Lisann Kaut, Paulina Krumbiegel, Verena Wieder, Marie Muller, Sjoeke Nusken. Substitutes: (used) Luisa Daikeler, Gina-Maria Chmielinski, Meryen Cennet Cal, Lena Uebach, Maren Marie Tellenbroker; (not used) Rafaela Borggrafe, Lisa Ebert, Christin Meyer, Anna Lena Riedel.
NI Women's U19s v Germany Women's U19s