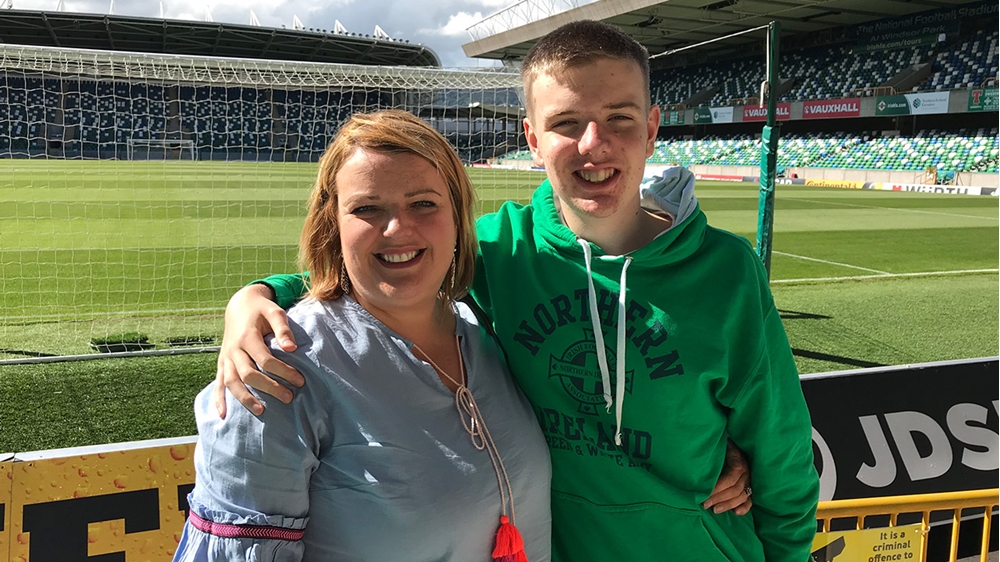 James Wilkinson has been attending Northern Ireland games alongside his mother for years and doesn't intend to stop anytime soon. 
"It's great to become Northern Ireland's Fan of the Month, it's a real honour. It's great that the Irish FA recognise the fans that go to the games and acknowledge it, it really means a lot.
"My first game was a friendly against Slovenia. Washington scored the only goal on his debut. The new stadium was still being built but the atmosphere was class. Once I got to that I made sure I went to every home game after." he revealed. 
17 year old James previously was interviewed with his mother Helen ahead of the International Challenge match against Israel. Now they would regularly attend games together at the National Stadium at Windsor Park. 
"My mum will be so jealous of this but she'll be happy for me. She'll be with me at the Austria game coming up and every other game after that.
"We love going to the games and really hope to get to an away game during the next campaign. I think we can really push on with our new selection of young players and qualify for the EUROs, it would mean the world to me to be able to go to a major tournament with my mum beside me all the way."
The Wilkinson's will be attending our final Nations League game of 2018 against Austria in November and you still have the chance to join them in the National Stadium at Windsor Park. 
Do you know someone that deserves to be our Fan of the Month? Contact us on social media to submit a nomination! 
Twitter: @northernireland
Instagram: @northernireland
Facebook: facebook.com/northernireland
James Wilkinson October Fan of the Month