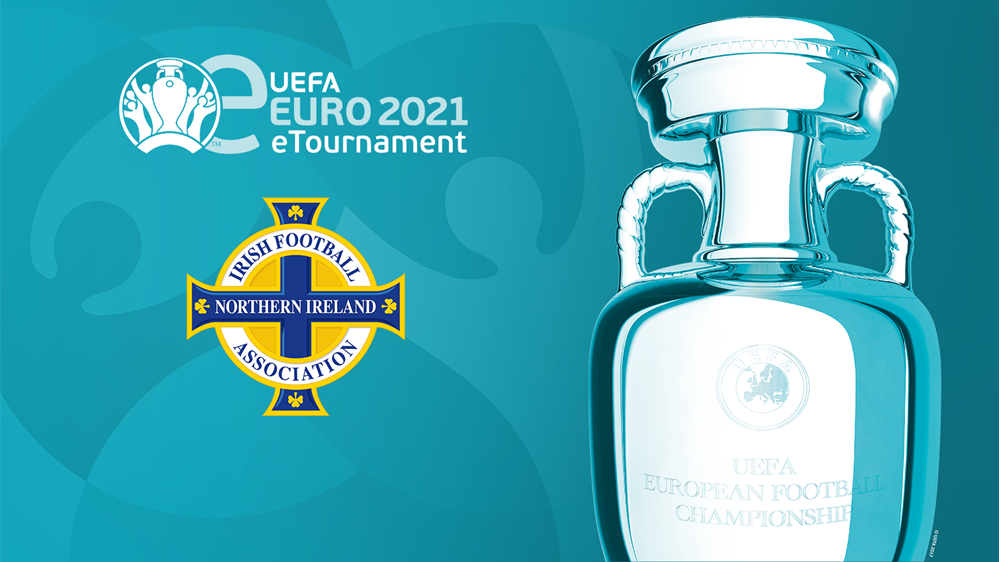 Northern Ireland's eSports team have discovered who they will be up against in the second edition of the UEFA eEURO qualifiers.
They are set to face holders Italy in the 2021 competition, with England, Portugal, Iceland and Moldova making up the remaining opposition in Group H.
The draw, which took place online on Monday evening, saw the 55 participating national teams divided into 10 groups of either five or six teams for the first phase of this year's competition, which will be contested across four matchdays: 15 March, 29 March, 12 April, 26 April.
The Northern Ireland team is made up of Garey Vance and Nick Hatton, who both took part in last year's inaugural competition.
Our Green and White gamers compete exclusively on KONAMI's eFootball PES 2021 Season Update on PlayStation 4 and will play two matches apiece against each country in their group (1-vs-1). 
The 10 group winners will automatically qualify for the final tournament scheduled to take place in London on 9 and 10 July. The runners-up from each group go into a play-off tournament on 10 and 17 May for a chance to secure one of the other six finalists' spots.
Last year Northern Ireland failed in their attempt to progress beyond the group stage in UEFA eEURO 2020 qualifying.
After phase one of qualifying, Northern Ireland were in reasonable shape thanks to a couple of wins over Georgia and Kosovo and a draw with Belarus. But they came up short in the second stage and ended up finishing last in the group.
Giving his reaction to last night's draw, Nick Hatton said: "We've been drawn against last year's winners, Italy, so that's pretty cool. We're also up against England and Portugal. It's going to be tough, no doubt, but we can only do better than we did last year!"
Garey Vance added: "We're heavy underdogs. Last time out we dd OK and after the first round of matches we were joint second in the table but the second round didn't go so well. We want to try and kick on a bit this year and we'll see how we go."
In full: UEFA eEURO 2021 draw
Group A: Spain, Finland, Ukraine, North Macedonia, Estonia
Group B: Germany, Kazakhstan, Bulgaria, Poland, Latvia
Group C: Croatia, Turkey, Sweden, San Marino, Cyprus
Group D: Austria, Montenegro, Slovenia, Kosovo, Andorra
Group E: Serbia, Bosnia and Herzegovina, Russia, Armenia, Malta
Group F: Israel, Lithuania, Belgium, Faroe Islands, Republic of Ireland, Switzerland
Group G: Romania, Luxembourg, Slovakia, Hungary, Liechtenstein, Gibraltar
Group H: Italy, Portugal, Moldova, England, Iceland, Northern Ireland
Group I: France, Denmark, Albania, Norway, Azerbaijan, Wales
Group J: Netherlands, Greece, Belarus, Scotland, Czech Republic, Georgia