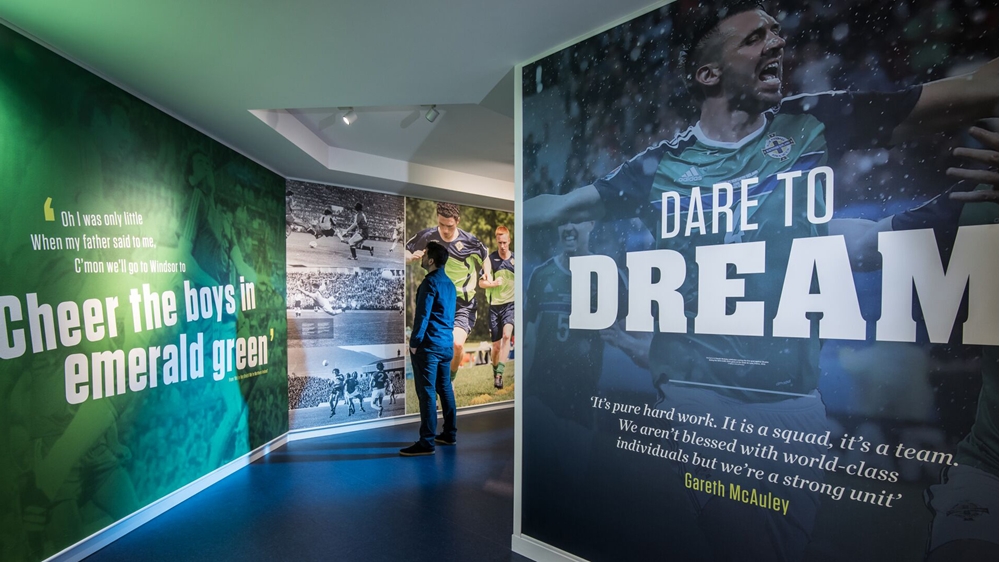 The National Lottery Heritage Fund has provided a funding boost to the Irish Football Association to help it to continue to share its heritage.
The grant of £20,900 will be used for maintaining the association's Education and Heritage Centre, which is located within the National Football Stadium at Windsor Park.
The National Lottery Heritage Fund is currently distributing a £5.5m Heritage Recovery Fund on behalf of the Department for Communities to help the heritage sector recover from the coronavirus pandemic and become more resilient – and the £20,900 boost has come from that £5.5m funding pot.
Jemma Thornbury, who runs the Education and Heritage Centre, said: "Our mission statement is to conserve and promote the heritage of Northern Ireland football for current and future generations while inspiring them to get involved within the beautiful game.
"This funding will allow us to reopen safely when able to do so. It will help us to explore new technologies such as social distancing tags, install relevant signage and sanitising stations and provide health and safety training for the volunteers who help us run our tours."
The funding will also support reopening promotions and exhibitions as well as support virtual tours – these are currently being offered to schools and other groups online – through the installation of remote working hardware/software to enable the EHC to deliver tours to larger audiences.
Jemma added: "Our doors have been closed for nearly a year. With the support of internal advice in the form of risk assessments and health and safety plans, the funding awarded by the Heritage Lottery Fund offers us an opportunity to reopen safely and introduce precautions that will support us over the next few years, while still allowing visitors to enjoy and share in our rich heritage."
A total of 91 organisations and individuals have been awarded grants through the Heritage Recovery Fund to help recover from the effects of the Covid-19 pandemic.
The recovery fund is part of the £29m Northern Ireland Executive allocation to support the arts, culture, heritage and language sectors across Northern Ireland.
Paul Mullan from The National Lottery Heritage Fund said: "We are grateful to the Department for Communities for providing this funding and enabling us to help a wide range of organisations and individuals in Northern Ireland's heritage sector to recover from the current crisis.
"The risks to heritage sites, attractions and organisations from a sudden and dramatic loss of income as a result of the pandemic have put the heritage and visitor economy in crisis, and this funding will play a vital role in their recovery.
"Heritage has an essential role to play in making communities better places to live, creating economic prosperity and supporting personal wellbeing. All of these are going to be vitally important as we emerge from the current pandemic."
Grants from the Heritage Recovery Fund were awarded to a wide range of organisations and individuals in the heritage sector, from historic sites, attractions and landscapes to tour guides and specialist heritage conservators.