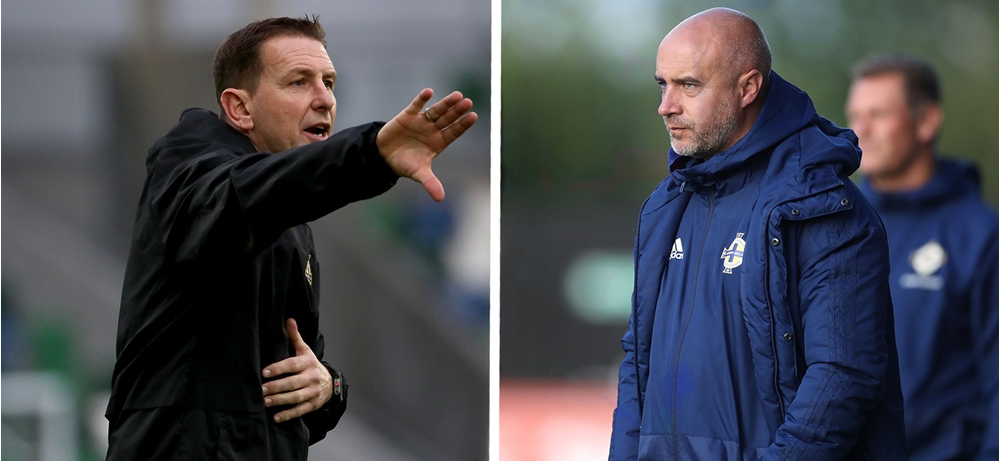 Northern Ireland manager Ian Baraclough has welcomed the addition of Andy Waterworth, Gareth McAuley and Roy Carroll to the Northern Ireland Under-19 and Under-17 set-up.
Both the Northern Ireland boss and Gerard Lyttle, the new U19/U17 manager who has brought the trio onboard, said they would all bring plenty of know-how to their roles.  
Baraclough said: "I'm really keen to encourage our former international stars to come back into the fold in this way. It's part of the fabric of what I feel any manager should be doing.
"Gareth and Roy are inspirational players that have been there and done it. Having them involved is good for us but, more importantly, even better for the young players who will benefit from their experience and expertise.
"There is a real eagerness from them to get involved which we are harnessing and alongside Andy Waterworth it's a backroom team to match any out there."
Gerard Lyttle previously worked with new assistant manager Andy Waterworth with Northern Ireland's U16s/Schoolboys.
He said: "Andy and I share the same beliefs in terms of coaching and style and systems of play. Andy has a good knowledge of the youth players coming through the systems. He's a top coach and has a great way with the young players. This appointment was a no-brainer for me."
Legendary Northern Ireland centre back Gareth McAuley will be a coach for the two teams.
Lyttle said: "Gareth is at the start of his coaching journey. It will be brilliant to have someone of his experience around our players while away at tournaments and camps.
"He will play a big part not just in helping with the coaching but also being an ambassador to our players.  
"Gareth is based in England so we will tap into him going to games and also touching base with the players that are playing in England. That could be a simple meet-up for a cup of tea to show our players that we are here for them. 
"To have someone like Gareth helping on and off the field is exciting for me and he is someone who knows what it takes to represent your country at the highest level. Gareth, Andy and Roy are all winners and pride themselves on being the best they possibly can be.
"All three have had a fantastic career in the game and now want to continue that success at international level through coaching."
Former Northern Ireland goalkeeper Roy Carroll has agreed to become the goalkeeping coach for both teams.
Lyttle said: "I'm excited to have Roy in working with our young goalkeepers. He brings not only professionalism to the group but also a winning mentality which again will be fantastic for young players. 
"He has the knowledge and experience of playing at the highest levels both at club and international level. He understands what it takes to represent your country and again this will have a positive effect on the group." 
Meanwhile, Lyttle has retained Chris Elliott as doctor for both teams and John Wilton as the kitman, while Gareth Robinson and Colm O'Hare will remain as physiotherapists for the U19s and U17s respectively.