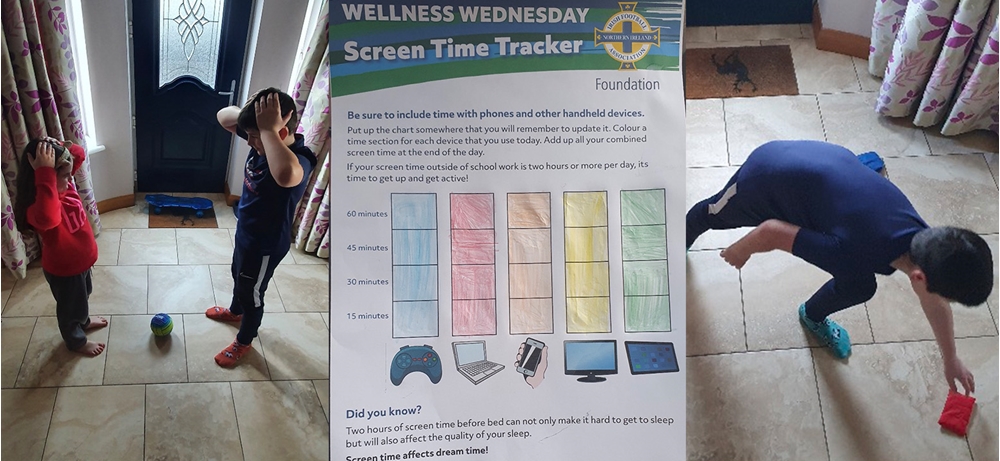 Irish FA Foundation coaches working on the Schools Sports Programme have been supporting Children's Mental Health Week.
Co-ordinated by the Place2Be charity, the annual week is aimed at shining a light on the importance of young people and children's mental health and is widely supported by a variety of organisations across the UK. 
During the current lockdown the Irish FA Foundation's Let Them Play officers have been working hard behind the scenes - and remotely - to continue to support teachers and children in primary schools that participate in the Sports Programme.
And this week the students have been set extra fun tasks to boost their mental health and wellbeing.
The foundation's Amanda Morton, the co-ordinator of the programme, said: "With it being Children's Mental Health Week we understand the importance and benefits of keeping children active.
"We believe the extra resources and tasks we have provided will really help the children as they can use them in their homes or outdoors. And they also encourage the children to work with siblings or parents to complete some of the challenges."
Amanda further pointed out: "With this latest lockdown it was important to our team that we could still make a positive impact in the schools we work with on the programme.
"The resources we have been sending out are being used by both the teachers we directly work with and other staff in the schools keen to share them with their classes."
Each week the Let Them Play officers deliver fun resources and tasks for the children to try to complete daily.
Teacher Martin Murray from Our Lady of Lourdes Primary School on Belfast's Antrim Road said: "The Irish FA resources have been really appreciated by all the staff in school.
"We have been sharing them with the boys and girls and getting really positive responses with the children looking forward to new daily tasks each week. It means a bit more that the resources are coming from Damian McLaughlin (Let Them Play officer) as the children have loved his coaching sessions in school this year." 
The Department of Education-funded Sports Programme isrun by the Irish FA Foundation and Ulster GAA. It is currently being offered remotely to schools due to the coronavirus pandemic.
Delivered by 24 coaches across the foundation and GAA, the physical literacy and health education programme is designed to interact with 32,000 Key Stage 2 students across Northern Ireland during the school year, and the coaches work closely with around 700 teachers.
The foundation and GAA coaches are also tasked with delivering both cross-curricular and healthy lifestyle themes in association with physical literacy work in curriculum time.