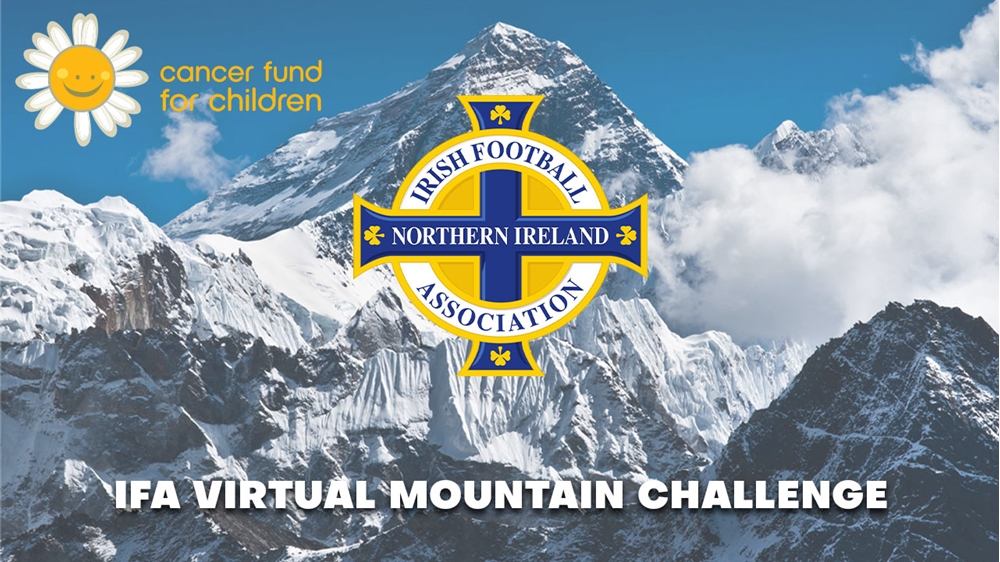 Cancer Fund for Children benefits from Everest and Fuji virtual climbs
A 53-strong team from the Irish Football Association have successfully conquered two of the world's best known mountains to raise more than £1,300 for the Cancer Fund for Children charity.
The climbers scaled Mount Everest and Mount Fuji in a virtual challenge rather than travelling thousands of miles to tackle the mountains.
Every department of the Irish FA was represented on the relay team and expedition leader Martine Power thanked all the participants and those who supported them by making donations.
Martine, who is a Let Them Play Officer with the Irish FA Foundation, said: "It was a fantastic challenge and a lot harder than it looked on paper. It was great to get the team together in these times to raise money for a great cause. 
"We are very happy that we exceeded the target amount of £1000 and donations are still coming in."
Cancer Fund for Children has strong links with the Irish FA. It has been the Northern Ireland senior men's team's charity partner since the run-up to Euro 2016.
Andy Boal from Cancer Fund for Children congratulated the climbers on their efforts.
He said: "The donations you have raised means we can continue to make sure that no child has to face their cancer journey alone. In these current circumstances much of our one-to-one support with young people diagnosed with cancer is limited to virtual meetings, but these still make a huge difference to their lives. 
"We also work closely with the parents of diagnosed children and provide support to young people who are coming to terms with the news that their own parent has cancer.
"Even in the midst of the pandemic we are able to continue providing short breaks for families at our Daisy Lodge therapeutic centre (near Newcastle, Co Down). Although the number of families coming for a stay is limited compared to what we would normally have, the support received over the few days is more important than ever and is delivered in the safest of environments possible.
"We rely so heavily on the generosity of the public to ensure our vital services can continue for people who need them. Thank you for all your hard work." 
Mount Fuji, the highest mountain in Japan, is 3776 metres high. It takes an estimated 15,800 steps or the equivalent of walking up 1216 flights of stairs to reach its summit – and the team reached its peak in a single day.
They then climbed Mount Everest over a three-day period. Located on the border between China and Nepal, Everest has an altitude of 8848 metres. To get to the summit would take an estimated 58,070 steps or walking up a flight of stairs (15 steps) 3871 times. 
The Irish FA team walked 73,870 steps and climbed 5087 flights of stairs during the virtual challenge.