We caught up with former Northern Ireland U21 and Barrow AFC defender Bobby Burns to discuss his road to recovery, the new skills he has developed during his spell on the side lines and his future footballing goals. 
Bobby suffered a double leg break in early November while playing on loan with Glentoran and is currently rehabbing his leg here in Belfast, during lockdown.
How are you and how is your rehab coming along?
I'm not too bad; same as everybody, struggling away during lockdown. Missing doing things and seeing people. In general, rehab is going well. I had my last appointment with my consultant on Friday and he's was positive that the bone is healing really well. I just have to keep taking it one day at a time and keep progressing.
Has a big part of the recovery been the mental side of it?
Yeah, massively. It's strange when you get an injury like this, you lose trust in your leg. When you go to put weight on it, it just shoots with pain. It's just gaining that confidence; my physio Gareth Robinson is unbelievable. We're very lucky to have him. Sometimes he asks me to do exercises, and I think: 'there's no way I can do that', but once I do it I realise I can. I'm slowly getting through that mental apprehension and slowly building up the impact. I'm hoping to start running on a gravity treadmill soon.
My physio tries to make the rehab as fun as possible, I've bought a sponge football that I can now kick. It's about focusing on what I can do rather than what I can't. It's a tough mental battle because sometimes you don't think you're progressing as fast as you want to and you're desperate to get back. Every week I take videos of my rehab and when I'm low in confidence, I take a look back and see the progress I've made so much more.
Coming back from injury can be lonely, especially in the midst of a pandemic. So, is being at home a silver lining?
I don't how I would have done it (not being home). I'm speaking positively but there's been some very grim days too. The first week I was on so many painkillers and was getting lot of messages from people, I didn't feel too negative.
When I came home, I couldn't get up the stairs or couldn't bend my knee to get out of bed. My family have been extremely helpful but one day they were all out and I was on the house on my own, I just couldn't get out of bed. I don't know what I would have done if I had of been in England without them. Even just having their support and motivation, they keep on top of me and make sure I'm eating well. A lot of the time they will help out with my rehab exercises too, it's been a massive help.
I'd love to have been able to use this time to do other things, but unfortunately, I've been unable to (due to COVID restrictions). I'm focusing on what I can do. The first four weeks I was really struggling, and my head was gone. I thought 'I don't even want to do this rehab' but now I see the progress, it's been better. I think what is for you won't pass you.
It's nice to spend time at home this year, having been away in Australia and Scotland on my own. When I do get back playing I might not see my family as much, so I'm trying to make the most of it while I can.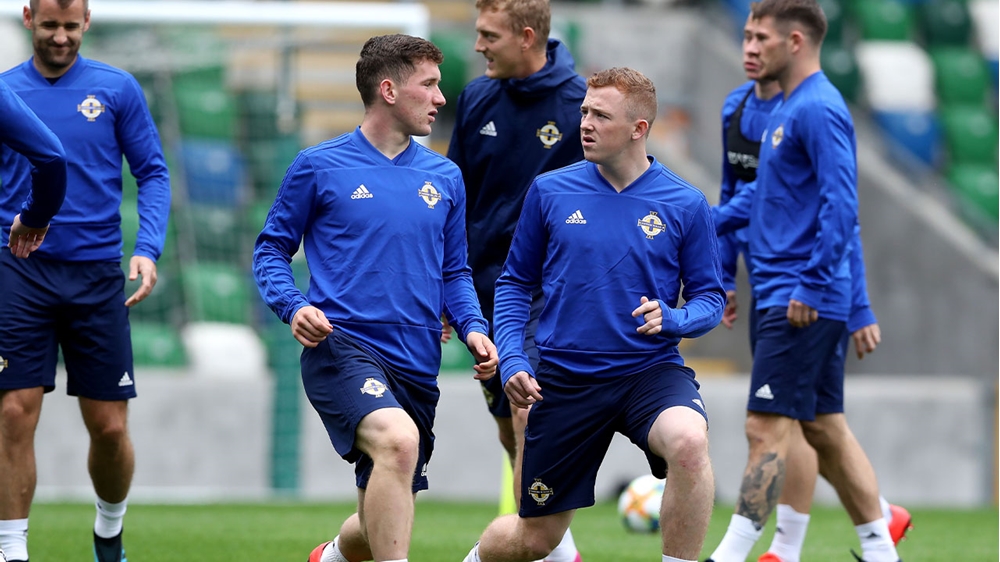 With your new cooking Instagram, has cooking been something you can channel your energy into, also being able to eat healthy alongside it?
That was one of my first projects in lockdown, I've started doing so many different things. I always loved cooking, obviously living on my own the past two years, you either have to sink or swim. There's only so many times you can ask someone to cook for you or eat out. It's always something I wanted to do and being able to do so little because of the lockdown and injury, I thought I would try it.
It's been good seeing people trying dishes I've done and sending me recommendations. I love my food and it's been enjoyable to do something out of football and out of my comfort zone. I've another couple of dishes to do in the next couple of days that I'm looking forward to.
It's another new skill to learn and it's kept me busy. At the end of this lockdown, I won't have been able to improve football wise but maybe I will have learnt a lot of new skills and improve as a person. Obviously, all the gym work too.
Any other tips you have been doing for your mental health? 
I'm not an expert on it, and there have been days for me when it has been grim. Looking back on the times I've been down over the past six months, keeping busy has been the thing that has helped me. Just trying to get involved in different projects. Again, keeping focused on what you can do.
I miss my friends and family so much, because I was in Australia and came back during the pandemic, it's actually been two years since I have seen a lot of my best friends and family members.
If I sat all day and thought about what I couldn't do, it would be bad. The cooking is one, I'm trying to learn the guitar as well. It's another fun challenge, as well as a lot of gym work. I'm starting to feel a lot stronger and lean.
I've also got my Open University degree which is keeping me busy. Any course I can get my hands on, I've jumped on. I've completed my level one introduction to Talent Identification and an Opposition Analysis course. Hopefully, in the summertime I'm looking to do my coaching badges with the Irish FA. My two brothers are qualified referees and I'm halfway through my referee course.
I have also been co-commentating for BBC Sport NI, which I've really enjoyed. My tips to anyone would definitely be to keep busy and look for new courses. The things that I have enjoyed most have been outside football, like cooking, guitar and walking the dog.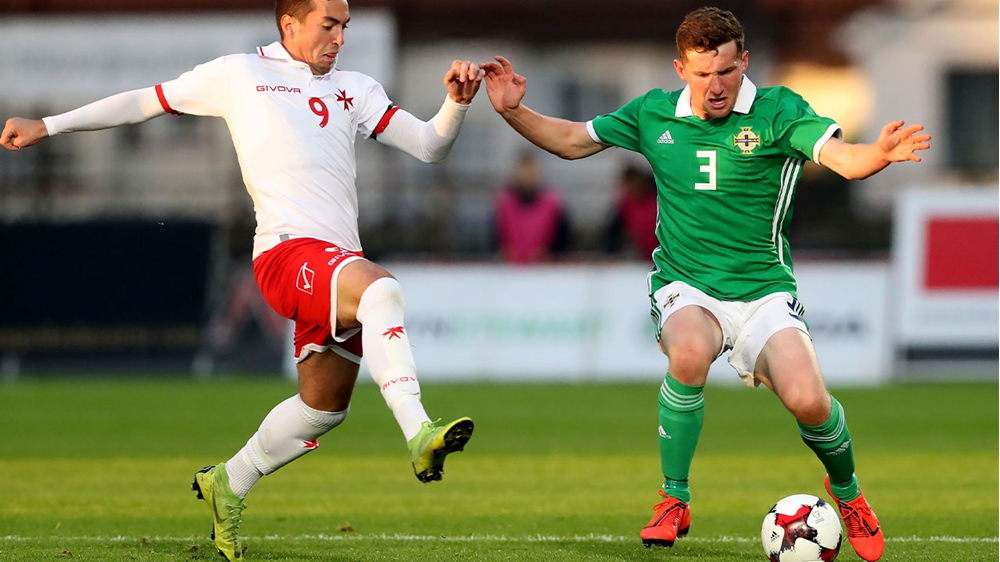 Thoughts on your time with Northern Ireland U21s?
I think I played around 15 games for the U21s, so it was great. The first campaign I was a part of when I was one year younger than everyone, couldn't have gone better. I didn't pick up any injuries, we beat Spain and went on a run of five wins in a row. It was class to be a part of and to play with so many great players.
Then of course I went to Australia and I knew my involvement with the U21s would take a hit and then COVID stopped another camp. When I did come back, I tore my ankle ligament before the Malta trip. I was part of the next camp and it was good to be there, but I knew I wasn't back up to full fitness yet. Then I had the leg break before the trip to Ukraine, it was really disappointing that it finished on a sad note.
It's something that you don't appreciate until it's gone and obviously, I'd love to play for the senior team, but you never know whether you will get there. I had such a good experience with Northern Ireland, through the Club NI set-up and met so many great people. My appetite now is to get back playing at the highest level I can and see what I can do.
It's been great to see how many young talents have come through, Ali McCann and Daniel Ballard have done unbelievably well. They're two great lads.
Looking now into the U21 squad they have a very talented squad. It's a tough group for them but I'm sure they will be excited about the prospect of playing the likes of Spain. The next group coming through are very exciting with the likes of Alfie McCalmont and Ethan Galbraith. I have a great experience and even just playing in some of the countries, playing against some of top players. I just can't wait to get back from the injury. I'm itching to go.