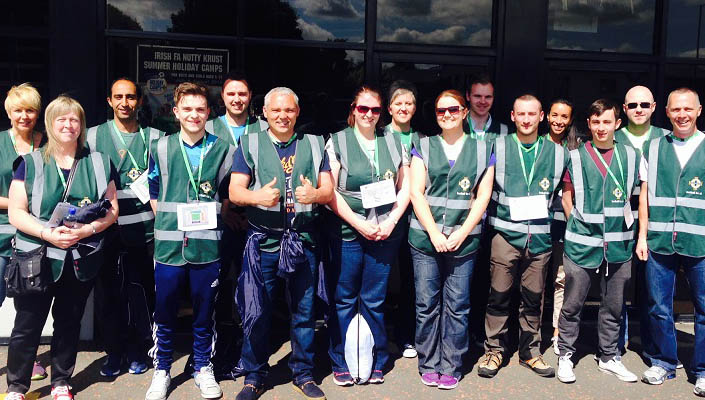 Without the thousands of football volunteers, giving up their time and energy every week, football as we know it wouldn't exist.
The Irish FA have recently established an Official IFA Volunteer Team to encourage volunteering within different areas of the Irish FA and provide exciting opportunities for many committed and enthusiastic individuals.
Opportunities have been established within various strands of the local game including Grassroots, Disability, Women's and Schools football. Each month www.irishfa.com will be speaking to a current member of the IFA Volunteer Team, taking a snapshot of their volunteering experiences within the Irish FA. 
This month the volunteer focus spotlight shines on Gary Taylor. Gary was one of the first members to join the IFA Volunteer Team (September 2014) and has been involved within various volunteer roles at the Irish FA.
How did you get involved within volunteer team?
I saw an advertisement on social media regarding the new IFA Volunteer Team and the EURO 2016 qualifying campaign. I thought it was really interesting and something I'd love to get involved in.  I decided to apply and have never looked back as I am getting more involved and enjoying every minute of what I am doing.
What made you want to volunteer?
My football career was sadly over but I still really wanted to stay involved within football. I saw the volunteering opportunity and thought it would be a great way to give something back to the game.
Tell us about your volunteer role...

My main role has been as a volunteer match reporter for the NIBFA TV which provides highlights from a focused game each week. I write match reports to accompany the footage and this is then edited to create a highlights reel of the game.
I've also volunteered at the Northern Ireland qualifying matches as well as helping out at one off Schools football events.
Has volunteering helped you in a personal or professional level?
Definitely! On a personal level it's really helped as I have got to meet new people and new friends. It has been great to meet the Irish FA staff, other IFA volunteers and external club/volunteers through my various roles.
On a professional level it has definitely made me a lot more confident in what I am doing and built my self-esteem. It has allowed me to see a lot of the behind the scenes organisation that exists and has helped me to develop new skills and learning.
What have you learned from volunteering?
I have learnt a lot from volunteering both in terms of experience. I've learnt a lot about the media side of football and all that it entails.  I've also learned that you get out of volunteering what you put in and you should challenge yourself by putting yourself out of your comfort zone. It's a great feeling to be part of a successful project.
What has been your most enjoyable volunteer experience?
All of my volunteering experiences so far have been really enjoyable and I wouldn't change any of my roles. The best part is getting to meet new people and making new friendships. One day that stands out for me would be the Cup Finals day held at Cookstown. It was such a great project to be part of and it was fantastic to see such young footballing talent coming through.
In one sentence, why should people volunteer within the IFA team?
That's easy, simply because it's fun, enjoyable and you get to meet lot of new people.