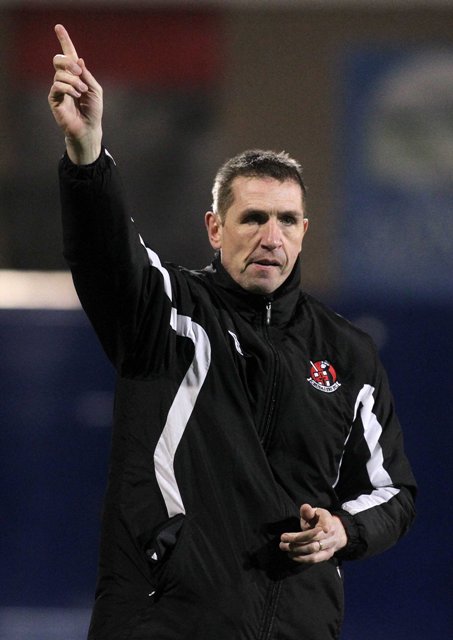 Crusaders are intent on kicking the habit of being the "bridesmaid" of the Irish Cup this season, according to manager Stephen Baxter.
The Crues meet amateur league minnows Rathfriland Rangers in their opening match of this year's competition on Saturday (9 January) and Baxter wants his players to make a statement.
After a disappointing Irish Premiership defeat to Linfield on New Year's Day, nothing would be worse for the Seaview side than an unthinkable slip-up against a club four divisions below them, especially as the boss is targeting a league and cup double.
The last time they lifted the trophy was in 2009, and for Baxter that's simply too long ago.
"We've unfortunately been bridesmaid too many times since we won the Irish Cup," he says.
"We lost in the semi-final last year against Glentoran and we lost against Glenavon in a semi-final, so we've been making a habit of losing at that stage.
"But the Irish Cup is a big, prestigious competition and we want to do as well in it as we can."
The clash with Rathfriland was the last one out of the hat in the fifth-round draw, but it might not be as straightforward as it seems on paper.
Baxter watched the Whites' 0-4 away win over fellow amateur side Abbey Villa in round four last Saturday and admits he was taken aback by what he saw.
Rathfriland have gathered together a group of players that mixes experience and guile with youthful exuberance, including former Irish Premiership names James Costello, Lee Feeney, and the Black brothers, Aaron and Ross.
"I was very impressed with their organisation and how they passed the ball around - that maybe took me a little bit by surprise, how well they played," Baxter says.
"They're all confident on the ball, they pass it very well and they've obviously got one or two players who have been around Irish League football and know their way around a football pitch, so you could see the difference in the two teams."
Aaron Black spent two successful years with Crusaders, pocketing an Irish Cup medal in that 2009 triumph.
In his first game after leaving the Crues for Coleraine, Black was sent off after six minutes against his former club, and Baxter jokes that he knows what to do to target the big centre-half.
"We'll be doing exactly the same this time, sending a few boys on to wind him up!
"Aaron's a big friend of ours at the football club.
"I chased him very hard to sign him from Larne, we brought him in and he did very well for us.
"He's a good guy, we like him a lot, and I'm sure he'll be looking forward to coming back to Seaview as well."
Crusaders will be without suspended pair Colin Coates and Billy-Joe Burns, while Jordan Owens inclusion is not yet confirmed as he awaits the birth of his child.
But Baxter says he'll not be taking a victory for granted and has vowed to put out a formidable line-up.
"I wouldn't have been down watching Rathfriland's game if I didn't expect to see what they're all about and how they do it.
"We'll treat the game with the respect it's due and try to get a positive result.
"I've a good idea in my head what way we want to play.
"We've got a big squad of players and we'll want to see one or two of them step up and get a game.
"But no matter what team we put out it'll be a strong side."