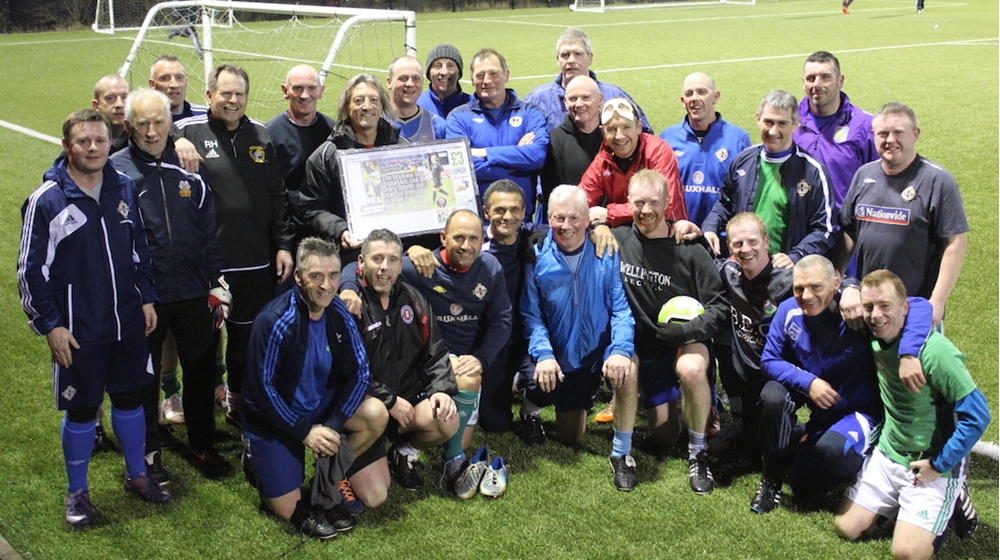 The 52-year-old, still the youngest player ever to lift the Irish Cup when he won it with Ballymena aged just 17, was diagnosed with pancreatic cancer six months ago.
He's been dealt a cruel hand for sure, struck down by a strain of the disease common more among the over-75s than a man at the crest of middle age.
But armed with a gritty mixture of stoicism, defiance and gallows humour, Smyth says he will roll with the punches and face down anything life can throw at him.
A cultured, goalscoring midfielder in his pomp during Larne's halcyon days of the Eighties under Paul Malone, Smyth could nevertheless handle himself on the pitch and this steely determination is standing him in good stead.
With a peremptory sniff, he insists he won't let his diagnosis define him nor diminish his zest for life – and it would appear he's true to his word.
In between fortnightly bouts of chemotherapy, Smyth continues to work the sales trail for his company Johnsons Coffee, while that silky touch of old is still on display twice weekly when he gets together with the Northern Ireland veterans; his positivity an uplifting antidote to what is an inescapably sobering topic.
"I'm doing fine," he says breezily.
"I'm going through chemotherapy at the minute, every two weeks I go in for four or five hours, they just run it through you.
"But I'm fortunate, with a lot of people it lies them low but with me, it doesn't, it hasn't affected me untowardly so I'm lucky as far as that goes.
"They can give you a prognosis, give you a timescale but I don't think about it too much, I try to be positive, I don't dwell on it and I'm still working away, Johnsons Coffee have been very good to me, they give me time to recover after my operations, they don't put too much pressure on me.
"And I'm still training twice a week with them (the veterans), it's great fun.
"Half of it is the craic, the laugh you have and meeting boys. I hadn't really bothered with football for like 20 years since I stopped playing so it's great to see a lot of the oul hands and it's good to keep fit, I really look forward to it every week.
"There's a couple of old colleagues there, Ian Hamilton who I played with at Ballymena United, Danny Maxwell played with me at Larne, and I even go back as far as Ronnie Haughey, because I started when I was young!
"Then there's the likes of Geoff Ferris and Marty Tabb, Dessie Edgar who I've been pals with for a lot of years outside of football.
"So a few Irish League legends there… legends in their own lunchtime."
When players past or present are pressed on what matters in football, the stock answer usually comes shooting back: it's all about trophies.
It is, of course – but then again, maybe it isn't.
Certainly, when footballers are at the peak of their powers physically, silverware is all that matters.
But there's a life that awaits beyond their short playing careers, and while you can proudly reflect on your achievements, maybe even boast a little to kith and kin, it's the friendships you make and the bonds you form which stand the test of time.
When Smyth's asked what football means to him, though he rhymes off the big moments by rote, it's the camaraderie he experienced which really comes flooding back.
"Travelling and meeting people was the best for me," he said.
"Obviously winning the European Championship with the schoolboy team was great and then winning the Irish Cup was a big deal.
"But the main thing was that you met friends and when you see them again, all the memories come back and the craic's good.
"The camaraderie is such a big part of football and I'm getting that again now that I'm playing with the over-50s."
A Tottenham Hotspur fan growing up in Ballymena, Smyth idolised Glenn Hoddle, modelling his own game on the genial English playmaker.
But had the stars aligned differently for him, he might well have joined their arch rivals Arsenal after impressing with two goals against Spurs while trialling for the Gunners in London.
"I was with Ballymena and then Arsenal wanted to sign me, I flew over to Arsenal and they wanted me to sign as an apprentice but I was in grammar school education and my teachers thought it would be a better idea if I signed for Ballymena and did my O-levels and A-levels," explained Smyth.
"They said Arsenal would come back in for me in a couple of years… and I'm still waiting on them!"
As things turned out, Smyth was left to forge a very fine career for himself in his homeland, winning the Irish Cup in just his fourth game for Ballymena in the 1981 final against Glenavon, then lifting the Ulster Cup with Larne during the heady days of the Malone era.
"On the back of that cup win with Ballymena, we played against Roma and I played against Falcao who played for Brazil at the time," recalled Smyth.
"The vice-captain of Italy was playing as well, a guy called Bruno Conti, so that was a great experience.
"The next season, I wasn't getting regular football so Larne signed me and I had a good time at Larne.
"I was down in Larne a few weeks back with all my old team-mates and we were just saying, going through the Eighties, we played in five senior cup finals.
"We won the Ulster Cup and we were beaten twice in the Irish Cup final and then we had Co Antrim Shields and whatever else.
"It was great for a wee club like Larne, Maloney did a great job down there at Larne at the time. It was a reasonably small club but he put a great team together."
Smyth returned to Ballymena to see out his senior career at his hometown club before dropping down into the old B Division with Chimney Corner in his twilight years.
Save for a brief spell coaching at Larne, Smyth drifted away from the game until returning to the fold last season when he took charge of Amateur League outfit Drumbo's second string whom he guided to a third place finish before stepping aside due to his personal circumstances.
"I'd like to thank Stevie Clarke and Gary McComb for stepping up to the plate and managing the team while I was in hospital and getting treatment every other week, them and the Drumbo chairman Richard Walker as well," said Smyth.
Looking back, Smyth says he has no regrets from his time in football with the exception, perhaps, of the one that got away at Arsenal.
Nevertheless, he remains fiercely proud of a career in which he made history not just once with his Irish Cup claim to fame, but twice as he conquered Europe with his country, becoming the last schoolboy international skipper to do so.
"I captained the schoolboy international team when I was a kid and we won the European Championship in 1979," he said.
"I think that was the last time we won it, we beat Wales in the final. Mark Hughes was playing for Wales and Norman Whiteside and Alan McDonald were playing for us."
Northern Ireland Veterans football have a massive year ahead with matches in Europe and the hosting of the Home Internationals coming up soon.
Further information can be obtained by contacting Veterans Football chairman Seamus Heath at; seamus.heath@irishfa.com or Tel; 07515062882
THIS ARTICLE WAS FIRST PUBLISHED IN THE DAILY MIRROR BY MAXIE SWAIN