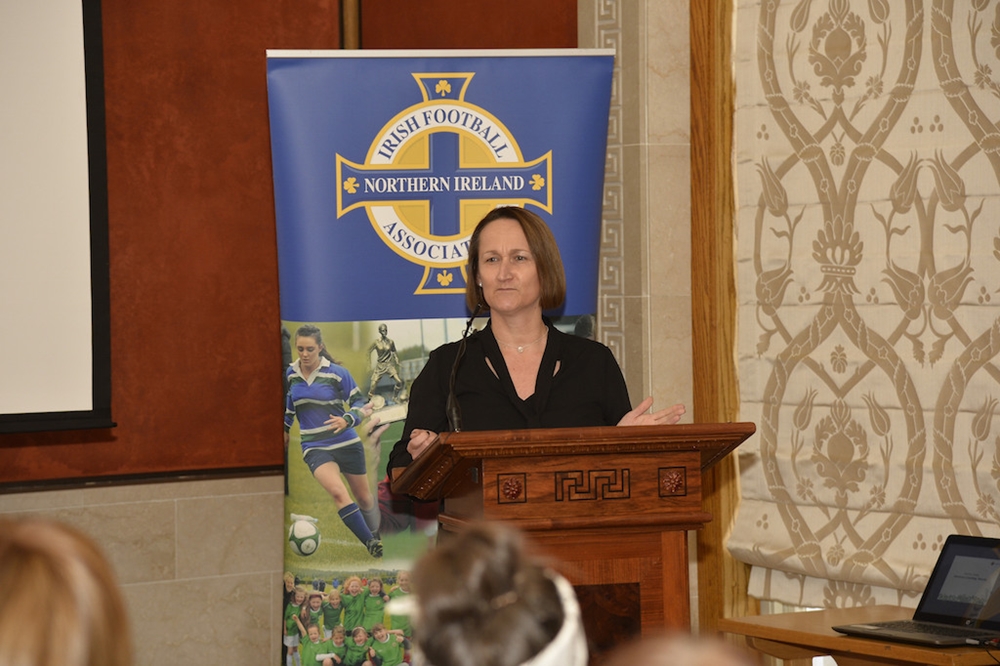 The event was hosted by DRD Minister Michelle McIlveen  MLA. 
The ten females: Niamh Adams, Emma Bohill, Nicole Caldwell, Gail Davidson, Glenda Eagleson, Claire Masterson, Emma McAleese, Sarah McDonald, Eadaoin Ni Chiarrain and Margaret O'Hanlon were recruited for the training following the success of the pilot IFA Female Football Leaders Programme in 2013 and the follow up course in 2014. 
A total of 24 women have completed the course, which is delivered by Advance Coaching, since this ground-breaking initiative was introduced in 2013. Explaining why the IFA developed a training programme to specifically support females, Sara Booth, IFA Women's Domestic Football Manager says:
"Women remain very much in the minority in leadership positions in football and the IFA Female Football Leaders Programme aims to change this situation. This is not a gender issue; this is a football and business issue. Women are significantly under-represented in executive and board positions in the industry and yet have considerable knowledge and skills that could be harvested more widely to benefit football. This programme aims to provide the talent pipeline to achieve this."
Explaining how the ten young females will use the knowledge and skills that they have developed to benefit the industry, Sara Booth adds:
"The IFA is committed to ensuring that more women become involved in the higher echelons of the game and at decision making level in particular. The Female Football Leaders Programme plays a key role in this process and we will be asking all the graduates to put all their learning into practice and be pioneers for the sport, as they work with clubs that are based right across Northern Ireland. This programme is funded through the UEFA Women's Football Development Programme and we are extremely grateful to UEFA for their continued support of our work in this area. This is a group of exceptionally talented women and we are confident that they will each make a significant contribution to football in their own unique way."
FFLP graduate Emma Bohill gave a powerful and emotive speech on how participation on the FFLP programme helped her transition into a new job role: "The programme provided me with a safe and supportive environment where I could talk about issues in an environment free from judgement. The network of women around me from the programme has helped me take control and allowed me to regain confidence in my ability."
Sue O'Neill, former FFLP graduate and current chair of the NIWFA Committee, spoke of the importance of the leadership programme for encouraging more women to step up into key decision making roles within football: "I challenge you to go back to your club and to find a leaders role for yourself – whether that is at committee level, on the training pitch or by mentoring younger players."
Congratulating the graduates on their achievement, Michael Boyd, Director of Football Development, IFA says: 
"The IFA Female Football Leaders Programme is embedded into the heart of what we do in Football Development both through the "Let them Play" strategy and the IFA Girls' and Women's Football Plan. It is great to have ten women graduating today from our most recent programme and I hope they will go on to find leadership roles within football and to inspire and empower other girls and women to get involved." 
The IFA is calling for entries for this year's Female Football Leaders Programme. There is no upper age limit for applications. Closing date is Friday 12 February 2016.
Click here to download the application form.
Please contact Chloe Archibald via E. chloe.archibald@irishfa.com for registration details. For further information on the IFA log onto www.irishfa.com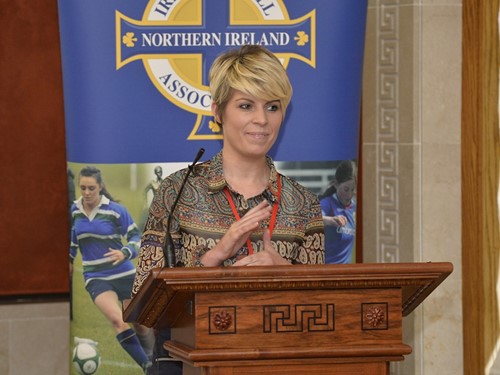 FFLP graduate Emma Bohill addresses guests at the IFA Female Football Leaders Graduation ceremony in Parliament Buildings, Stormont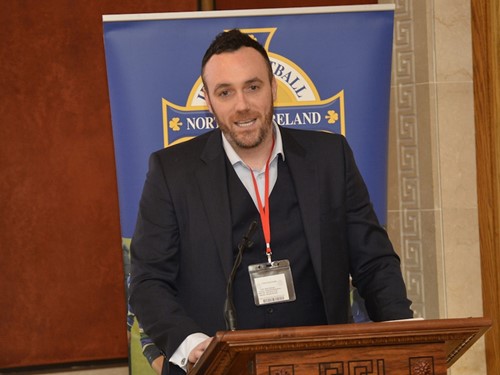 IFA Director of Football Development Michael Boyd speaking at the graduation ceremony
FFLP graduates pictured with (Back row R–L) Niamh Shiells (Director of Advance Coaching), Denise Watson, Debbie Cousins (Tutor, Advance Coaching), DRD Minister Michelle McIlveen MLA, Michael Boyd (IFA Director of Football Development) and (Front row R-L) Sara Booth (IFA Women's Domestic Football Manager)