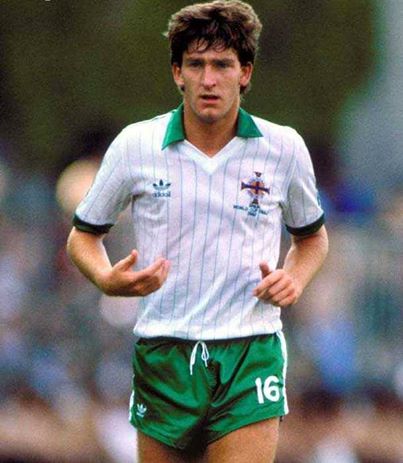 Ahead of Northern Ireland's participation at the UEFA EURO 2016 finals, we caught up with Northern Ireland and Manchester United legend, Norman Whiteside.
Whiteside played on the international stage for Northern Ireland 38 times, scoring nine goals. As Northern Ireland qualified for Euro 2016, Whiteside has praised the achievements of the team.
"When I was playing, qualifying was your 'final' and I think it still remains like that. Michael (O'Neill) got off to a tricky start, but he had a young team that blended well, stuck together and the results came. The team showed the same fight and determination that we showed 30 years ago, nothing has changed in that respect. We were brought up on those same values in Northern Ireland."
At 17, Whiteside was the youngest ever player to appear at a World Cup when Northern Ireland went to Spain in 1982. He then went on to star at his second World Cup in Mexico in 1986.
He says: "Although I didn't go through the qualification process in '82, I was brought in for the finals which was amazing. I had played 100 minutes for Manchester United, having made my debut coming on for 12 minutes against Brighton and then 90 minutes against Stoke in the last game of the season. I was then whisked off to the World Cup where I played five games, meaning I played more games at the World Cup that I had in Division 1 for Manchester United.
"As a kid you take it all on board," continues Norman. "If someone asks you to play for United, you do it. If someone asks you to play for your country, you do it. If someone asks you to go to a World Cup, you do it. At that age people are telling you what to do, so you are basically taking directions.
"In '86 I went in with a different mind set. With Brazil, Spain and Algeria in our group we knew it was going to be tough. We got off to a decent start against Algeria, when I scored after about 5 minutes. There was a bit of a deflection, but I'm claiming it! I still have a watch that was given to me for scoring the 9th fastest goal in the Mexico World Cup, which I haven't taken off since."
Looking forward to the Euro 2016 finals, Whiteside hopes that the team can continue the great form shown in the qualification campaign.
"We all hope that they can take forward what they have put together in the run up to the finals. They have good team morale, they all seem to get on and have a laugh, but when it comes down to the serious business they are quite capable of doing the job.
"I would still maintain that our 'final' was getting to France, but with the results from qualification the confidence is there so it is now just a matter of taking that into the tournament.
"It is a different ball game from when you play in the Irish League, then the English Leagues, International football, and the world cup. When you are a kid you want to play football, then you want to play professionally, then you want to play for the big clubs. From there you want to play in Europe, then you want to represent your country, and when you play for your country you want to play in the Euros or the World Cup. You want to strive for the highest possible level and the Northern Ireland team are now getting to experience that, which is great."