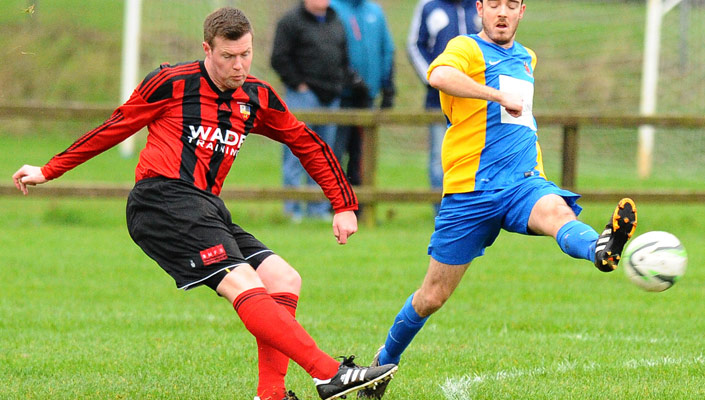 Nortel 3-2 Banbridge Town 
Today's game had been chosen as the "Tie of the 3rd Round" of the Irish FA Intermediate Cup.
The pitch at Nortel was soft and played a big part in both teams not being able to play their normal quality of football.
From the start both teams looked for a quick goal and Nortel seemed to settle first and against the run of play the visitors took the lead after 6 mins when their no 10 Conor Downey side footed the ball across the front of the goal from a slight angle and watched as it crawled into the net.
After 16 mins the Banbridge Town no 7 Ryan Gourley broke through the Nortel defence only to see his point blank shot saved by Nortel's keeper Kris Malone.
Banbridge's second goal came on 20 mins when Adam Pedlow netted from inside the 6 yrd box.
The Nortel comeback started on the 28th min when "Man of the Match" Mark Wilkinson got his first of 3 when he netted from a acute angle and within 10 mins he got his second when the Banbridge keeper had no option than to push out a initial shot from Timmy Clarke which Wilkinson following in put it in the net.
The rest of the first half was becoming a end to end game and the pitch was taking its toll and in the end both teams were glad of the half time break.
Half Time: Nortel 2-2 Banbridge Town 
The second half continued as the first half had ended and possession went from one team to another and both teams had shots on goal but with the pitch cutting up badly it took 20 mins of the second half to see Wilkinson get his and Nortel's 3rd with a 1v1 on the Banbridge keeper inside the 6yrd box.
Both teams battled hard but the heavy pitch was playing its part and both teams began to run out of energy.
As the game entered its final stages Banbridge started to muster enough to try to pull the game level but alas the Home side had produced a spectacular comeback from 2 goals down to see themselves into the 4th round draw on Tuesday night.
Full Time: Nortel 3-2 Banbridge Town