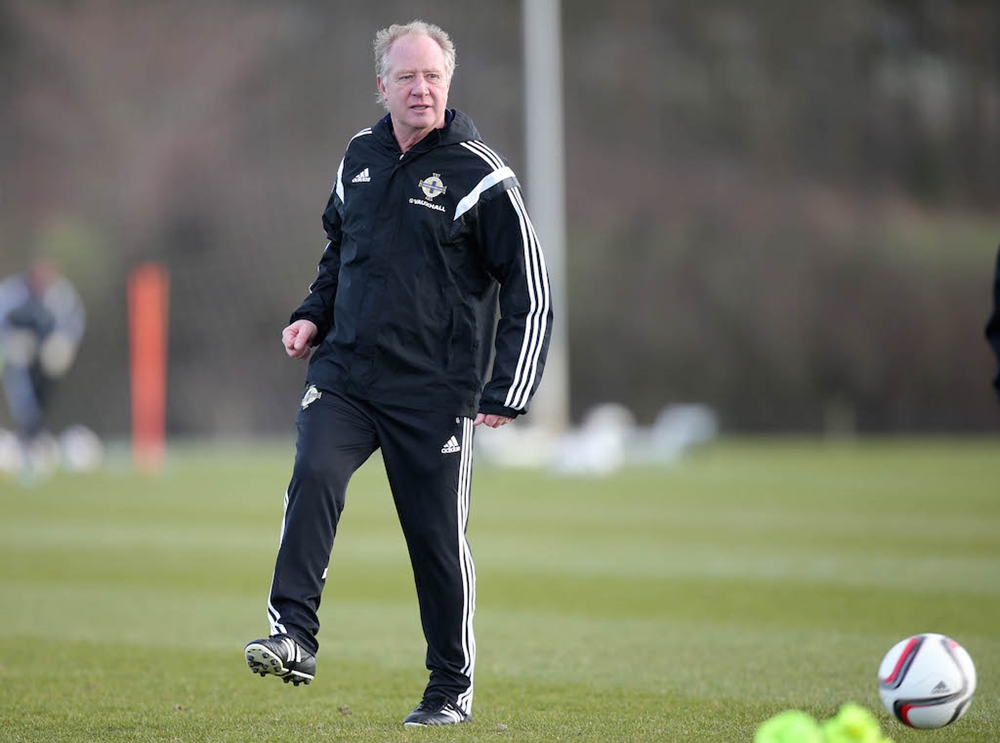 Nicholl joined the Northern Ireland backroom team in March 2015 ahead of the Finland match at Windsor Park. Nicholl was ever-present at Manager Michael O'Neill's side throughout the tail end of the campaign.
"I feel very fortunate to be going to the Euros. At my age, it really came out of the blue – it was a bit of a surprise. Normally you get an opportunity when things aren't going so well, but we were sitting second in the group when Michael called. I was surprised, but it was great."
Speaking about Northern Ireland's qualification for Euro 2016, the former Raith Rovers and Millwall Manager gives some insight into his thoughts on the moment when Northern Ireland sealed qualification against Greece in Belfast.
"They always say your best days are your playing days and there is no doubt about that. I definitely don't get the same buzz now, but there are some things that come close as and this is definitely one of those.
"I did some great things with Raith Rovers. We beat Celtic in the Cup Final and went to Bayern Munich and narrowly lost which were big highlights in my six years there. But being involved when we qualified for the first time in 30 years - that's as close as it gets to the feeling as a player.
"Looking back, the equaliser against Hungary was massive. When the board went up with an extra five minutes and we were down to ten men, I haven't heard a noise like that before. There were only 10,500 at the game. A 60,000 seater stadium wouldn't have had a roar like it. You see when we got the equaliser, I've never been so pumped in all my life!
"The Greece game was fantastic when we qualified, but the draw with Hungary really kept the thing alive. It really felt like it was our time."
As a key part of our backroom staff, Nicholl gives an insight into his role within the team.
He says: "I had to find my role, take it all in and see how I can be of benefit to the team. I would sit with Michael (O'Neill), Stevie (Robinson) and the sports science guys to pull our information together. The amount of information players get these days is second to none.
"When it came to training, the team weren't doing anything wrong, so it was a case of game to game looking at the weaknesses and strengths of the opposition and to put that into effect in the build up to a game. It's very thorough, everybody knew their job and it was successful because of the amount of work Michael put in."
In the run up to the tournament in June, Nicholl explains on what he will be doing in the coming months in preparation.
"We have to keep an eye on the boys when they are with their clubs to make sure that the competition is still going to be there. I don't think anybody would like a wee dip in form going into the Euros. Its important the lads in Scotland that I look after and keep an eye on keep their form up. If their team isn't doing well, you've got to make sure that the individual is still doing their job the best they can even under difficult circumstances.
"We are keeping an eye on players and considering preparation as much at this stage. I'm going to games, watching the players and feeding back to Michael on how they are getting on.
Looking ahead to our opponents at the Euros, Nicholl gives his thoughts on the challenge awaiting the team in France.
"If we can get a win and a draw before the Germany game we would be in a great position. We can be confident with the way the players are at the minute and how it snowballed in the qualifiers. But does it really matter who we were to come up against? The players are going to be more excited than frightened. Whoever we've got, we've got. The players are so confident in what they are capable of producing.
"Each player who will be in France will feel that they have the right to be there. They've won the group, Kyle's scoring goals, people are filling in for each other. Magennis comes in for Lafferty and scores, Cathcart comes in at centre half and does great. We have players coming in who are not looking out of place."