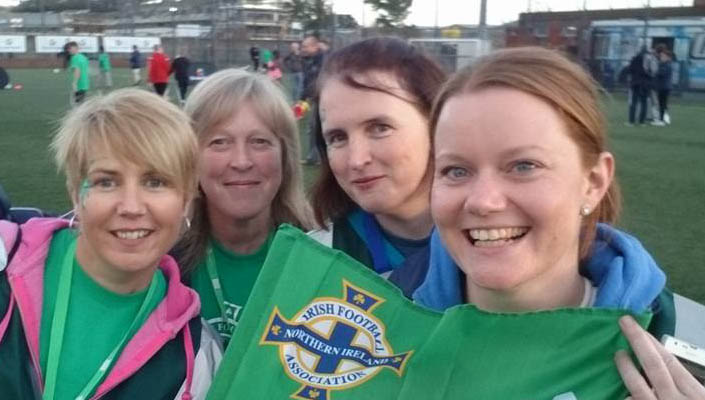 Without the thousands of football volunteers, giving up their time and energy every week, football as we know it wouldn't exist.
The Irish FA have recently established an Official IFA Volunteer Team to encourage volunteering within different areas of the Irish FA and provide exciting opportunities for many committed and enthusiastic individuals. Opportunities have been established within various strands of the local game including Grassroots, Disability, Women's and Schools football. Each month www.irishfa.com will be speaking to a current member of the IFA Volunteer Team, taking a snapshot of their volunteering experiences within the Irish FA.  
This month the volunteer focus spotlight shines on Gail Davidson. Gail was one of the first members to join the IFA Volunteer Team (September 2014) and has been involved within various volunteer roles at the Irish FA. 
How did you get involved within volunteer team? 
I noticed it on the Irish FA website and decided to get in touch as I'd volunteered before in other sports and had really enjoyed it and as football is my favourite sport I thought, why not.
What made you want to volunteer?
I decided to volunteer as I have some free time and my work is flexible and it's a great opportunity to get me away from the routine of normal life.  I have previously volunteered at the World Police and Fire Games which I was a driver, bringing officials to the various venues mainly around Belfast.  I also was involved in the Giro d'Italia so it made sense to volunteer in my favourite sport.
Tell us about your volunteer role...

I mostly help out at the fan zone on match days (manning the various activity stations, giving out t shirts & flags etc) and also the other volunteers and I are dotted around the ground helping fans with which gates they need to enter by, as its a bit confusing at the minute with the stadium being rebuilt.  
I also was a team liason officer with the Bulgarian ladies team Sofia who were entered in the Ladies Champions League.  This involved travelling to training and matches with the team and being a go between with them and officials at Seaview and Solitude where the matches were played.
Has volunteering helped you in a personal or professional level?

Volunteering has helped my confidence and generally makes me feel happy.
What have you learned from volunteering?

The main thing I've learnt is you need to be flexible and be able to adjust to different situations that hadn't been planned for. 
What has been your most enjoyable volunteer experience?
The best thing about volunteering is meeting new people and having a bit of craic.
In one sentence, why should people volunteer within the IFA team?
Get involved and have fun being a part of the Green and White Army. 
To find out more about volunteering or to get involved within the IFA Volunteer Team, contact Stephen Garrett (Irish FA Volunteer Development and Policy Officer) via sgarrett@irishfa.com or 07545930124.