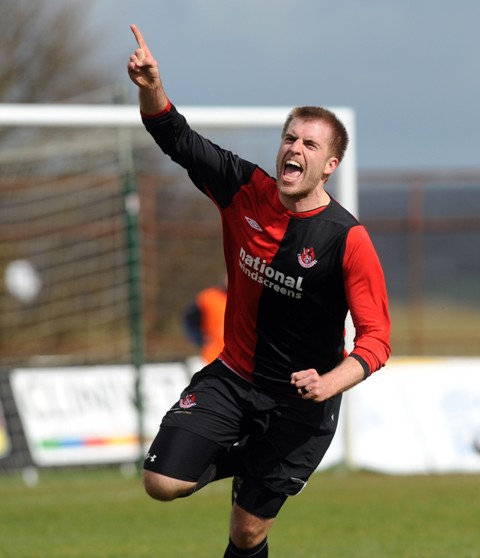 Regrets? Rathfriland Rangers centre-half Aaron Black has one or two.
But his decision to leave Crusaders at the end of the 2009-10 season is the one that sticks with him.
That's where he spent his "favourite years" as a footballer.
He won the Irish Cup with the Hatchetmen in 2009 and now returns to Seaview with County Down amateur outfit Rathfriland on Saturday (9 January) for a fifth-round clash between the sides in the same competition.
And he's looking forward to meeting a few old friends in north Belfast, where his finest footballing memories were made.
"In my first year I won the Irish Cup and in the second year I won the County Antrim Shield, so it was fantastic," he says.
"A big memory was scoring in the Irish Cup semi-final against Institute at the Ballymena Showgrounds, I really enjoyed that.
"And cup final day itself was just an amazing day.
"I can always remember coming back to the Shore Road and it was just rammed with people the whole way up to the ground.
"Then we went to the La Mon Hotel and partied into the early hours - the full day was just amazing.
The game itself, against fierce rivals Cliftonville, wasn't a classic, but a 1-0 win was enough for him to pocket a coveted Irish Cup winner's medal.
"To do that in my first season was out of this world," he says.
"And you could see then that [Crusaders manager] Stephen Baxter was putting together a really good team - that's kind of when it started, and then they progressed and progressed and progressed."
Aaron's second season with the Crues was dogged by injury, and an achilles problem was the reason he had to leave the club.
Playing on the 3G surface at Seaview was hindering his recovery, and he even had to turn down a two-year contract as a result.
He moved to Coleraine in the summer of 2010 and in the first game of the new season he came up against the club he had just departed.
It didn't quite go to plan, however, and he was sent off after just six minutes!
"Stephen obviously knew my temper and got a few boys to get at me, and to be fair it worked!
"I think I'm older and a lot more experienced now, so I don't think I'll ever bite like that again, fingers crossed!"
For much of his career, Aaron played a midfield role, but having retired for two years and only recently returned he has dropped back into defence and now adds a touch a class for Rathfriland.
He knows that his experience, along with that of his brother Ross, James Costello and Lee Feeney, who have also played at the top level of Northern Irish football, will be essential if the Rangers are to make their mark against Crusaders.
Last Saturday's fourth-round win over Abbey Villa was their "best performance of the season", he says, but the next test will be of an altogether different standard.
"I think it'll be a very, very difficult game," he says.
"Some guys in our team haven't played at that level before, and it might be a good thing they're going in blind, but I think we'll need our experienced players.
"It's a massive opportunity for the club and I genuinely think we should go for it.
"There's no point in sitting back - they're going to be fitter than us, individually they're going to be better than us, so we might as well go for it and play with the freedom we played with against Abbey Villa.
"Crusaders are league champions, they're flying this year again, they have top players through the team and a lot of guys I'm still close with.
"I don't know how Stephen will approach it.
"He was at the Abbey Villa game watching, but will he think his seconds are enough for us or will he go for the full first team because it's the Irish Cup?
"I don't know, but it'll be interesting."
One old friend that Aaron is looking forward to facing now as a foe is Crusaders' joint all-time top goalscorer Jordan Owens.
The big striker, nicknamed Chicken, recently levelled club legend Glenn Hunter's tally of 157 goals and still has plenty more years to play.
"I played against Chicken on his debut," Aaron says.
"I was playing for Larne and he was just a young boy coming on to the scene, obviously a big raw fella.
"And he done me, he scored against me!
"I don't know who Baxter will play, but if he's playing big Chicken we'll battle away!"
One thing is for sure, though - Aaron and the rest of the players will be counting on the Rathfriland fans to act as a twelfth man as they take on the might of the Crues.
"The turn-out against Abbey Villa was outstanding and you could hear the Rathfriland fans shouting and singing - it's brilliant for the team.
"There's probably not that many amateur league teams bring those kind of numbers to games," he says.
"I don't think they realise how much the players appreciate that.
"I'm sure there'll be a couple of hundred there for the Crusaders game and the wee Rathfriland roar will be unbelievable."