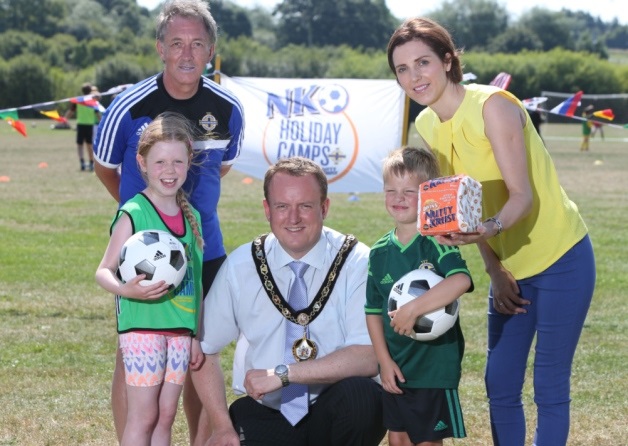 This month the staff/volunteer focus spotlight shines on Ken Duncan. Ken is the Irish FA's Grassroots Development Officer for the Armagh, Banbridge and Craigavon area and knows from his own experience, the value and journey of a hard working volunteer.

How did you get involved within football as a volunteer?
Once upon a time there was a Primary School who needed someone to help coach and take their football team and the rest is history so to speak. With budding and madly keen footballers, they needed some guidance and so began my volunteer experience.
What made you want to volunteer?
It was great just to be asked, to be able to give some help and see those little faces light up when you came along for the coaching session or game.
How did volunteering help you on a personal and professional level?
It can be a great sense of personal satisfaction to see the guidance or help you deliver to a young player, culminate in the development of a skill or experience. It underpins and encourages you to go that little bit further in your experience giving you belief and challenge in your personal journey. On a professional level you can draw from these experiences to help you step up and step out and it's always good to have built this experience that you can refer to within everyday working life - somewhere you remember where it all started.
What have you learned from volunteering?
That it's good to give without an expectation of receiving. That you can make a difference to someone no matter how small. It's not so much about you but those you work alongside and the impact you can have in helping to release the potential in someone else.
What's your best volunteer memory?
There are so many, it's difficult to choose one time or experience, but if I were to pick one it would be coaching a disability group where I was taking a session that involved SAQ. The first comments from some of the group and one in particular was, "I can't do that", within a few minutes everyone was going at it and having a ball, it was a challenge for all involved but in the midst of the mayhem those challenges were being won and for this particular individual all I could hear was " I can do it, I can do it" followed by the widest grin and a fist punch into the air. That's what it's all about.
Would you recommend volunteering?
Absolutely. Get involved!! You'll gain new friends, new skills, and new experiences and feel great for making a difference in the lives of others.
In one sentence, why should people volunteer within Northern Ireland football?
Investing time and effort in others can be so rewarding when you see others blossom – being part of that journey is reward in itself.
Do you still volunteer?
While I don't at this moment volunteer in the way I did, I believe that you can take the spirit of volunteering into every area of your life when you work with others. We can all share with others without an expectation of receiving.
Tell us a fun fact about you?
Once when I was about to run onto the stage at the Ulster Hall to perform in concert in front of a full audience, I tripped over a cable launching myself into the air landing face first right on the spot where the spot light came on! It was as if someone dropped me from the ceiling right on to the exact spot! What an entrance!
To find out more about volunteering contact Stephen Garrett, Irish FA Volunteer Development and Policy Officer: sgarrett@irishfa.com or 07545930124,