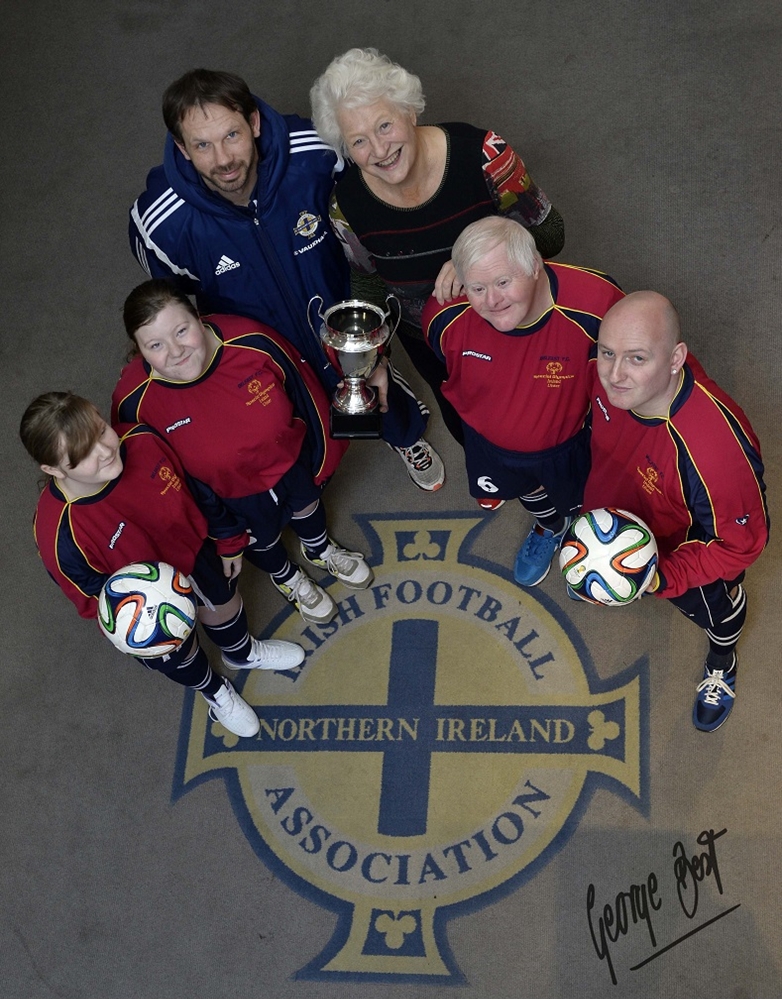 The donation follows the announcement in September that the George Best Foundation would cease to operate.
However, the legacy of the local footballing hero is set to live on through the Irish FA's newly named George Best Community Cup, which will be funded by Mary Peters Trust.
In accepting the donation Dame Mary Peters CH, DBE said:
"Over the last eight years the George Best Foundation has funded countless footballing and health related projects.
"I would like to thank Barbara and Norman McNarry for selecting the Trust as the charitable vehicle for which we can continue their good work in memory of my friend and the hero of many, George."
The Mary Peters Trust, which is celebrating its 25th anniversary this year, is the only charity in Northern Ireland which can assess sporting need and provide assistance to young individuals from all recognised sports.
Now in its 12th year, the newly named George Best Community Cup is a major highlight on the disability football calendar, with over 500 players from various clubs across Ireland, Scotland, Wales, England and Guernsey competing for the coveted trophy.
Divided into four divisions, the 5-a-side disability football event is for clubs and adult centres that provide learning, physical or sensory impairment programmes for amateur football players across the province.
Dame Mary Peters CH, DBE continued:
"Mary Peters Trust is committed to nourishing the professional development of sportsmen and women throughout Northern Ireland and endeavours to open up as many opportunities as possible to further their sporting goals.
"George Best was undoubtedly one of the greatest home-grown sporting talents from Northern Ireland, with a truly exceptional gift that arguably remains unmatched.
"By sponsoring the IFA's George Best Community Cup, the Mary Peters Trust will enable disabled footballers to compete in and enjoy the sport they love.
"We look forward to working in partnership with the IFA and wish competitors the best of luck in this year's tournament."
Mary Peter's Trust will be title sponsor of the George Best Community Cup for the next five years and will continue to manage the sporting star's legacy for the foreseeable future.
IFA Disability Football Development Manager, Alan Crooks said:
"We're delighted to receive the support of Mary Peter's Trust and can't think of a more fitting tribute to George Best than naming the Community Cup after him.
"The annual tournament allows highly skilled footballers of various physical and mental abilities, to showcase their talents and promote the sport to a wider audience.
"Each year we find the high calibre of players becomes increasingly advanced, making it a thrill to watch and tight to call.
"To ensure that footballers are given the best chance to improve their skillset, we need to keep supporting and investing in their futures.

"For this reason we are extremely thankful to Mary Peters Trust for helping to fund the training and development of these incredible players and helping to make football more socially inclusive."
The George Best Community Cup Tournament will take place on 18 and 19 June in the Billy Neill Centre of Excellence, Dundonald.
To find out more information on the George Best Community Cup go to www.irishfa.com