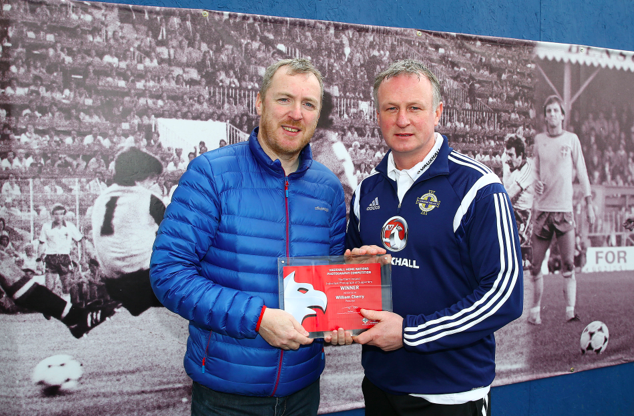 Jonathan Porter of Press Eye scooped first prize and title of 2014 Northern Ireland Photographer of the Year for his portfolio of an array of photos from Northern Ireland's football year.
Jonathan also scooped first prize in the Individual Photograph of the Year for his image of the Northern Ireland Women's team passionately celebrating a goal.
William Cherry, also a photographer for Press Eye landed first prize for his image of the passionate Northern Ireland supporters celebrating.
The overall Home Nations Photographer of the Year was awarded to Stuart Forster of Getty Images. Stuart's portfolio of Chris Coleman's Welsh side captured their positive European Qualifying campaign in 2014.
This is the fourth year of the Vauxhall Home Nations Photographer of the Year competition having begun in the first year of their lead sponsorship of England.
Cheryl Stibbs, Sponsorship Marketing Manager, said: "This is the fourth year running we have awarded the very best in football photography."
"We continue to be astounded by the quality of the entrants and the substantial interest our awards have created in the photography profession.
"The standard of entrants in English international football category was incredible with the number of entrants growing year-on-year. Ian was a very worthy winner with an excellent portfolio which captured the real emotion of English football.
"We'd like to thank all the entrants for producing one of the finest exhibitions of photography our judges have ever seen."
Vauxhall Northern Ireland Photographer of the Year
Jonathan Porter: Press Eye
Vauxhall Northern Ireland Individual Photograph of the Year
Jonathan Porter: Press Eye
Vauxhall Northern Ireland Supporter Photo of the Year
William Cherry: Press Eye
Visit www.vauxhallfootball.co.uk
Follow VauxhallNI on Twitter: www.twitter.com/vauxhallNI
Become a fan on Facebook: www.facebook.com/VauxhallNorthernIreland