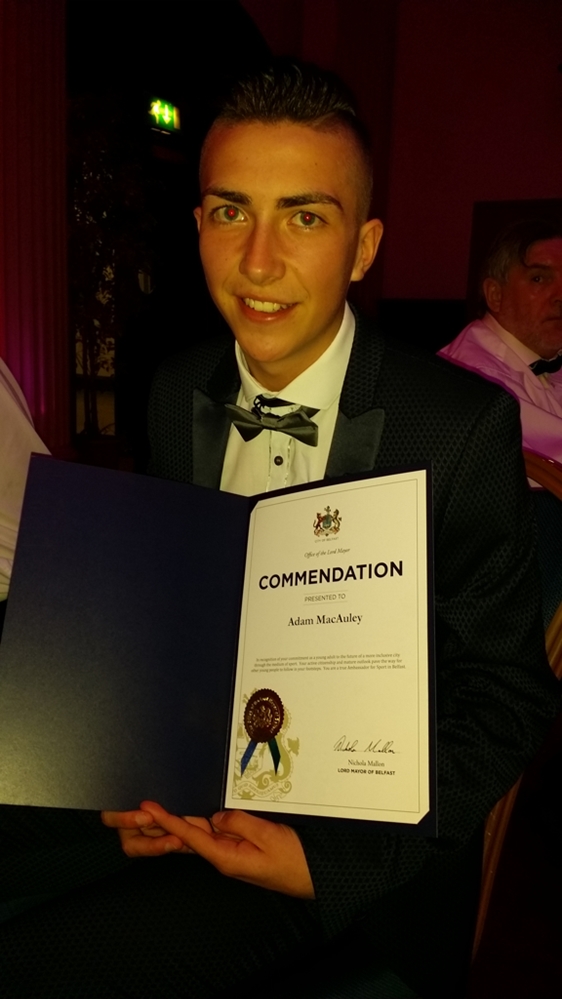 Adam McCauley, current Head Boy of Glengormley High School, was shortlisted for the Lord Mayor's Volunteer of the Year Award and attended the prestigious Belfast City Council Sports Awards in City Hall last week. He was awarded with a Commendation for his volunteering commitment, and was praised by the Lord Mayor for being the youngest individual to be nominated and shortlisted.
Adam is currently involved in the Football for All Youth Forum, an open group for young people from different communities, aged 15-18 to come together and have a meaningful say in football development in Northern Ireland. The forum discuss and develop projects to tackle discrimination both on and off the pitch, and enjoy a wide range of team building activities and residentials.
When he is not playing for the club, Adam volunteers with Crusaders FC, supporting younger age groups as they develop their skills. At a recent recognition event, Adam was awarded his 200 Hour Volunteer Goldmark Certificate, an initiative developed by Volunteer Now and facilitated by the Irish FA, which recognises the contribution of young people volunteering in sport.
Claire Adams and Sarah Keys, who are from the Football and Social Responsibility team in the Irish FA, and work with Adam on a regular basis through the Football for All Youth Form, were delighted to hear of his success, "Adam is a key part of our Youth Forum, having been with the group since its initiation in 2013. We are delighted that he has been recognised for his contribution to volunteering, and look forward to supporting him as he continues to develop his skills through football."
Director of Football Development at the Irish FA, Michael Boyd, said: "It is great to see Adam's volunteering within football being recognised by Belfast City Council. Developing volunteers is a key part of our Association's plans going forward to help develop clubs and players to their full potential."
If you are interested in getting involved in the Youth Forum, please get in touch with Claire Adams, Outreach Project Officer – cadams@irishfa.com To get involved in the Irish FA Volunteer Team, please contact Stevie Garrett, Volunteer Development and Policy Officer – sgarrett@irishfa.com